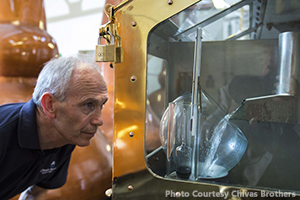 June 14, 2013 – After 14 years in mothballs, Glen Keith Distillery in Speyside is back in business. Chivas Brothers CEO Christian Porta and Scottish Rural Affairs Secretary Richard Lochhead presided over a re-commissioning ceremony at the distillery in Keith today. The ceremony follows a year-long renovation project that saw the distillery fitted with new plumbing and equipment to replace worn-out gear that had received minimal maintenance following the closure of Glen Keith by Seagram's in 1999.  In addition, a new mash-house  and tun room was constructed to give the distillery a new mash tun and a total of 15 washbacks. The upgrade is expected to give Glen Keith a 50% greater distillation capacity than the distillery had when it closed in 1999, with an estimated capacity of 4.5 million litres of spirit annually.
Chivas Brothers acquired the distillery in 2005 as part of parent company Pernod Ricard's acquisition of Allied Domecq, and had been using some of the distillery's buildings for laboratory work and office space. Glen Keith opened in 1960, and is located across the road from the Chivas-owned Strathisla Distillery.  While a limited amount of Glen Keith production was bottled in the past, the distillery's output will once again be earmarked for Chivas Regal and Royal Salute blended Scotch whiskies.
The Scotsman reports that Porta plans to move ahead with construction of a new distillery on the site of the former Imperial Distillery in Carron, despite a 5% drop in Scotch whisky sales globally during 2012. Planning permission has already been granted for the new distillery, which is expected to begin production by the end of 2014. He told The Scotsman that he remains confident in the long-term future for Scotch whisky sales.
"The slowdown has been due to the world economy and political changes in China, which have effected the consumption of luxury goods and other imports. But all of the main growth factors for Scotch whisky are still there – growth in emerging market economies, even if they have slowed, an increase in the size of the middle classes and the number high net-worth individuals in Brazil, Russia, India and China, and continued urbanisation as people move from the countryside to cities."
Porta, who will return to Paris later this year to take up a management role at Pernod Ricard Europe, is spending approximately $75 million USD annually to increase production capacity at the Chivas Brothers distilleries in Scotland. In addition to the Glen Keith revival, the company expanded capacity last year by 25% with projects at Tormore, Longmorn, Glentauchers, and Glenallachie distilleries, and opened a new stillhouse at The Glenlivet three years ago that boosted capacity by 75%.

Links: Chivas Brothers