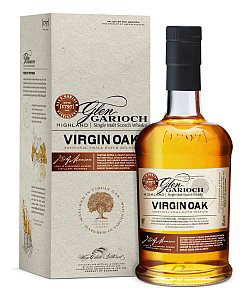 July 18, 2013 – Morrison Bowmore's Glen Garioch Distillery has released a new single malt Scotch matured in virgin American white oak casks. Glen Garioch Virgin Oak was inspired several years ago when the distillery laid down spirit in new oak casks to see what would happen when their spirit's character interacted with virgin wood.
In a news release, master blender Rachel Barrie described the results of the experiment:
"Glen Garioch's intense flavour means it holds up well in a new fill cask, allowing the liquid to be fully matured in virgin oak and not just finished in the barrel. We used the inner heartwood of 100-year-old oak trees grown in the North American mountains.  Each oak barrel was heavily charred to activate the wood's vanilla and oak spices in readiness for the maturing spirit, bringing its own unique woody tones to the malt. The final result is a fusion of vanilla, caramelised wood sugars and oak spices." 
The new expression will be available initially at whisky specialist retailers in the UK, with 120 cases destined for the market. A North American release is scheduled for October, according to Morrison Bowmore's Jamie MacKenzie.
Links: Glen Garioch