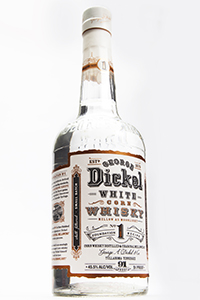 December 3, 2013 – Diageo's George Dickel distillery in Tennessee is entering the un-aged "white whiskey" sector with a new release scheduled for launch in January. Dickel's No. 1 Foundation Recipe is the "white dog" spirit that comes off the stills at the Tullahoma, Tennessee distillery, but unlike most other un-aged whiskies, goes through the same charcoal filtering process that the aged Dickel whiskies use before being diluted to bottling strength.
It is not being labeled as a Tennessee Whiskey, but as a Corn Whisky. Earlier this year, Tennessee lawmakers passed legislation limiting the use of the "Tennessee Whiskey" designation to whiskies that meet the federal government's standards for Bourbons — including the requirement that those whiskies be matured in new charred oak barrels.
George Dickel No. 1 Foundation Recipe will be bottled at 45.5% ABV, and will be available throughout the U.S. at a recommended retail price of $21.99 (750ml bottle).
Links: George Dickel