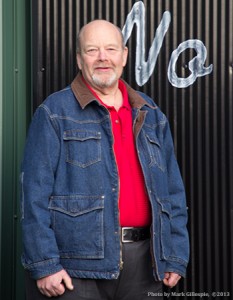 On February 13, 2013, I visited the Jim Beam Distillery in Clermont, Kentucky with a group of writers to tour Beam's new Global Innovation Center. Our day ended with a dinner at the Jim Beam American Stillhouse visitor's center with 7th generation Master Distiller Fred Noe, and after dinner, Fred read a couple of stories from his 2012 memoir with co-author Jim Kokoris, "Beam: Straight Up", and shared some memories of his father, the late Booker Noe, along with his son Freddy, who's just getting started in the family business.
I couldn't resist pulling out the microphone and recorder, even if it did make the Beam PR folks on hand blanch just a bit. You see, Fred's a master storyteller, but some of the language he uses isn't quite suitable for family audiences. What's more, some of the stories he told us that night were edited out of the book, and Jim may have been holding his head in his hands at certain points as Fred talked. I was too busy laughing to notice.
Enjoy…
By the way, we'll be giving one WhiskyCast community member a copy of "Beam: Straight Up". All you have to do is register as a member (it's free) by March 31, 2013, and we'll pick one member at random. You can also find Fred's book in the WhiskyCast Bookstore Powered by Amazon.com.
Update: Congratulations to Jared Volavka, who was selected at random to receive the signed copy of Fred's book.