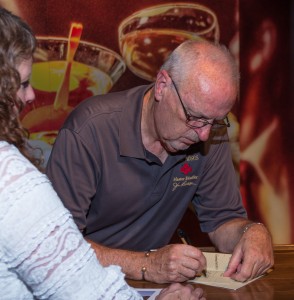 May 11, 2o14 – Four Roses has unveiled the annual release of its Limited Edition Single Barrel Bourbon for 2014, and once again, the 2014 version features one of the distillery's 10 different Bourbon recipes selected by Master Distiller Jim Rutledge. This year's version is known to the distillery's staff and its most ardent fans as "OESF" — a designation that covers the mashbill and specific yeast type unique to each variety. Here's how the formula works, according to the Four Roses web site:
O = Means the whiskey was distilled at Four Roses
E = A mashbill of 75% corn, 20% rye, and 5% malted barley
B = A mashbill of 60% corn, 35% rye, 5% malted barley
S = Straight whiskey  – minimum of two years of maturation under US law
V/K/O/Q/F = Specific yeast strains that create different flavor characteristics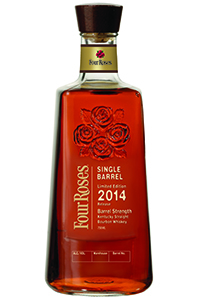 In this case, the 2014 Limited Edition Single Barrel was distilled at Four Roses using the 75% corn mashbill and the "F" yeast strain, then matured for 11 years. For comparison, the standard Four Roses Single Barrel is designated as "OBSV", which means it is made using the higher-rye mashbill with the "V" yeast strain. It should be noted that the "O" and "S" designations are consistent across all ten recipes, meaning that the two key variables that differentiate them are the mashbill and specific yeast variety.
This year's edition is bottled at barrel strength, which means that strength will vary from bottle to bottle with a range of between 54.15 and 63.8% ABV. Approximately 5,000 bottles will be available at US retailers starting in June, and for the first time, each bottle will carry a special toast from the winner of Four Roses' "Year Of The Toast" competition that marked the distillery's 125th anniversary. Frank Wheatley of Louisville, Kentucky submitted the winning entry:
"If I could age like Bourbon, I wouldn't mind getting old."
Links: Four Roses