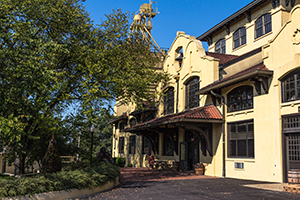 May 28, 2015 – Kentucky economic development officials have approved a package of incentives for a planned $55 million expansion project at the Four Roses Distillery in Lawrenceburg and its Coxs Creek warehouse complex in Bullitt County. The incentive package from the Kentucky Economic Development Finance Authority totals $1.15 million, and will be used to offset construction and capital equipment purchases for the expansion.
"Our growth has been absolutely phenomenal, so we've been studying this," Four Roses master distiller Jim Rutledge said in a telephone interview. "With our return to the US not so many years ago…in fact after Seagram went out of business, we didn't really start marketing until we introduced our Four Roses Single Barrel Bourbon in September of 2004…the first few years were slow, and then we've been on fire since then." The Lawrenceburg project will essentially double the distillery's capacity to around 8.5 million gallons of spirit annually, with a similar increase in warehousing capacity at Coxs Creek. That site also will house the new $8.4 million Four Roses bottling plant, for which Rutledge said construction began last week.
Listen to Mark Gillespie's interview with Jim Rutledge:

As for the new project, Rutledge projected construction will not begin for at least a year. "We've gotta go through probably a year now of getting all the permits in order, ordering equipment, which today's business, takes up to a year or more to get." Rutledge says Four Roses has enough warehouse capacity now to meet the distillery's needs for the next year, and additional construction at the Coxs Creek site will likely also be at least a year away.
Once the expansion is completed, it will be at least six years before any of the Bourbon produced from that new equipment is ready for bottling. While the distillery's Bourbons carry no age statements, Rutledge says the whiskey used for the regular Four Roses "Yellow Label" expression averages more than six years in the barrel.
The Finance Authority's decision was first reported by the Louisville Courier-Journal, which also reported approval of $650,000 in incentives for the planned $12.5 million Rabbit Hole Spirits distillery and visitors center in Louisville. The Lexington Herald-Leader reports that distillery could be open by the end of 2016 with annual production of around 5,000 barrels (approximately 250,000 gallons) of spirit annually.
Editor's note: This story was updated with additional information on the Rabbit Hole Distilling project in Louisville. 
Links: Four Roses | Kentucky Economic Development Finance Authority | Rabbit Hole Distilling