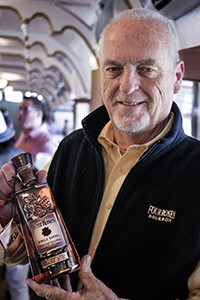 July 1, 2015 – "I'll be 72 in December, and when you get to be 71, you'll understand…right now, I don't know if I can make you understand. 50 doesn't mean that big a deal to me…"
That's how longtime Four Roses Distillery Master Distiller Jim Rutledge describes his decision to retire after 49 years in the whiskey business. He will step down on September 1 after more than 20 years as Master Distiller and be succeeded by current Operations Director Brent Elliott. Rutledge has agreed to remain as the distillery's "Master Distiller Emeritus" and do promotional work for Four Roses, but is also keeping his future options open. "Like Elmer T. (Lee of Buffalo Trace)…and I'm not comparing myself to him, he was a legend, but they had things for him, put his name on bottles after he retired…look at Booker (Noe), he was around 20-25 years after he retired as the face of Jim Beam," Rutledge said in a telephone interview. "I'm retiring, but I wouldn't know how to put a fishing pole in my hand and go fishing every day."
Rutledge said there were years when he took just four days of vacation time because of commitments to the distillery, and he wants to be able to spend time with his family while he's healthy enough to enjoy it. "I've felt like I cheated my family over the years because I was too committed to what I was doing at the distillery, so this gives me the opportunities to do both…I may be able to work as much as I want, more than I want, but it certainly won't be every day."
In a news release, Four Roses CEO Satoko Yoshida praised Jim's contributions to the distillery and the industry. " "He will be missed as the 'face of Four Roses Bourbon,' but we now wish him much happiness and success in his retirement years. I am also excited to have the opportunity to work with Brent in his new capacity as Master Distiller," she said. The move comes as Four Roses is preparing to launch a $55 million expansion that will double the distillery's capacity and add new warehouses at its Coxs Creek maturation complex near Bardstown. 
Overseeing that work will rest with Elliott, who gets nothing but praise from Jim Rutledge. "He'll make up the Limited Edition Small Batch samples…I do the easy part, yes or no, approve or not approve." Elliott has been responsible for selecting the barrels used in the regular Four Roses Bourbons, and Rutledge said "he has been very involved…whether it's the distillate that goes into the barrel, the Bourbon that comes out of the barrel…all along, he's been involved."
Rutledge started his career at Seagram's, which owned the Lawrenceburg, Kentucky distillery until the company's breakup and its sale to Japan's Kirin Brewing in 2003. He was instrumental in reviving the brand's stature in the US market when it was reintroduced as a premium Bourbon under Kirin's ownership. For decades, only export markets received the Four Roses Bourbons, while the Bronfman family insisted on marketing Four Roses in the US as a cheaply blended American Whiskey. Rutledge's leadership in the industry resulted in his being named to the inaugural 2001 class of the Kentucky Bourbon Hall of Fame, and he also served as chairman of the Kentucky Distillers Association board.
The entire interview with Jim Rutledge will be part of this week's WhiskyCast.
Editor's note: This story was updated following an interview with Jim Rutledge.
Links: Four Roses