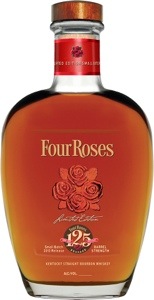 August 7, 2013– 2013 is the 125th anniversary of distilling at Four Roses Distillery in Lawrenceburg, Kentucky, and the distillery will be releasing the second of its annual limited edition Bourbons next month to mark the occasion.
The Four Roses 2013 Limited Edition Small Batch bourbon blends three of the distillery's 10 unique recipes, with Master Distiller Jim Rutledge selecting an 18-year-old OBSV) the distillery's unique code for mashbill, yeast strain, and other characteristics) batch with a mashbill of 60% corn, 35% rye, and 5% malted barley, and a yeast strain designed to impart a slightly fruity taste. The other two recipes are both 13-year-old batches of OBSK and OESK recipes, with the yeast in both imparting spiciness. The OBSK uses the same mashbill as the 18-year-old batch, while the OESK uses a mashbill of 75% corn, 20% rye, and 5% malted barley.
The final product will be bottled uncut and unfiltered at barrel strength, with around 8,000 bottles to be available. No release date has been specified, but Four Roses traditionally releases its Limited Edition Small Batch around the Kentucky Bourbon Festival in mid-September.
Links: Four Roses