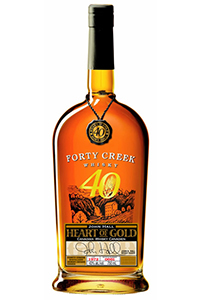 May 16, 2013 – Canada's award-winning Forty Creek Distillery traditionally announces its annual limited edition release each May, and John Hall's latest special whisky was unveiled in time for this year's Spirit of Toronto Festival. "Heart of Gold" will go on sale officially in Ontario at the distillery's release weekend September 28-29 in Grimsby, Ontario for those who pre-order one of the 9,000 numbered bottles that will be available. Online reservations will be taken starting May 27 at the Forty Creek web site through June 21.
As John Hall told us in Episode 424 of WhiskyCast, Heart of Gold's name refers to his decision to take a narrower band of the "heart" during the distillation runs for a spirit that holds the rye character while retaining more delicate notes as well. He used a yeast strain normally used for wines in the fermentation process to bring out the delicate floral and herbal notes he was seeking in the whisky.
Heart of Gold will be available at retailers in all Canadian provinces shortly after the release weekend, and a limited number of bottles will be available in several U.S. states as well.
Mark Gillespie's Tasting Notes for Heart of Gold

Links: Forty Creek Distillery