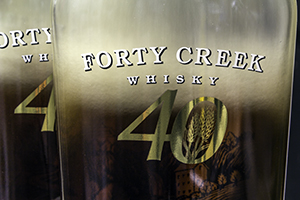 June 7, 2015 – If you're trying to visit the Forty Creek Whisky web site Monday, don't be surprised if your web browser hangs a few times. The Grimsby, Ontario distillery will start taking reservations for this year's annual Signature Edition limited-edition release at noon (EDT, 1600 GMT) with buyers able to reserve any number between 3 and 9,000 on a first-come, first-served basis. Bottles #1 and #2, as always, are reserved for Forty Creek founder and whisky maker John Hall.
This year's release will be called Forty Creek Three Grain Harmony, and as with all of the Forty Creek whiskies, is made by blending single grain whiskies distilled from rye, barley, and corn. However, the rye and barley whiskies in Three Grain Harmony are significantly older than those used in most of the distillery's whiskies. While Forty Creek has not specified how old, the distillery has told potential buyers that the stocks of rye and barley whiskies date back to "when we first began our Forty Creek Distillery" and that this is the first time those stocks have been used in a bottling. Three Grain Harmony is bottled at 43% ABV and will retail for $69.95 CDN per 750ml bottle.
While the distillery will start taking reservations for Three Grain Harmony on Monday and continue through June 26, customers will not actually be able to pick up their bottles until the distillery's annual Whisky Weekend on September 26 and 27. Those reserving bottles must pick them up at the distillery starting that weekend, with past practice dictating that remaining bottles will be on sale at the distillery's shop and a limited number of Canadian retail outlets.
Links: Forty Creek