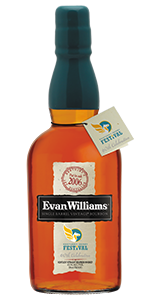 April 23, 2015 – While the Kentucky Derby marks 141 years on Derby Day May 2, the Kentucky Derby Festival is celebrating its 60th anniversary this year. The festival includes more than 70 different events organized by volunteers from around the Louisville area between April 17 and May 1. This year, Heaven Hill's Evan Williams Bourbon is marking the anniversary with a special limited-edition bottling of Evan Williams Single Barrel from two casks filled in 2006.
The bottles include a special teal-colored wax seal and label, and will go on sale Friday (April 24) only at the Evan Williams Bourbon Experience in downtown Louisville for $49.99 each on a first-come, first-served basis.
In addition, this year's "Pegasus Pins" that admit owners to Derby Festival events include a discount for admission to the Evan Williams Bourbon Experience. Evan Williams is an official sponsor of the Kentucky Derby Festival.
Links: Evan Williams Bourbon Experience | Kentucky Derby Festival