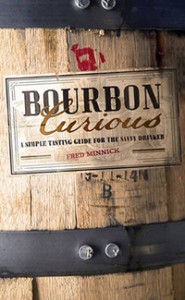 The "Bourbon Boom" has led to a corresponding boom in the publishing industry, with almost as many new Bourbon books as there are Bourbons on the market. Fred Minnick's second whisky book, "Bourbon Curious" not only shares some of the history behind many Bourbon brands, but breaks down many of them by flavor characteristics to help new Bourbon fans find the whiskies they're most likely to enjoy.
Fred's based in Louisville, and keeps a close eye on the Bourbon industry. On this week's WhiskyCast In-Depth, we sat down over drams to discuss his book and the state of Bourbon today, including the growing interest among distillers in using technology to do what only time has been proven to do successfully…create a mature whisky.
In the news, longtime Burn Stewart whisky guru Ian Macmillan is leaving to become Bladnoch's new master distiller and blender as part of that distillery's revival, the still maker under scrutiny following April's distillery explosion in Kentucky is keeping quiet, and we'll have a roundup of the week's new whiskies.
Links:
FredMinnick.com
|
Silver Trail Distillery
|
Revenoor Stills
| 
Bladnoch
|
The Whisky Show London Nepal Appeal Whisky
|
Shetland Reel
|
Douglas Laing & Co.
|
Sullivan's Cove
|
Catoctin Creek
|
Dalwhinnie
|
Jameson
|
Jack Daniel's