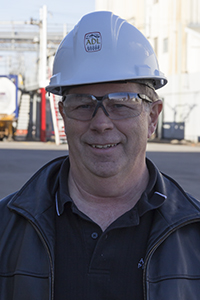 This week, we'll take a tour of a distillery very few people ever get to visit, Beam's Alberta Distillers facility in Calgary, Alberta. 80% of the distillery's whisky is sold in bulk to clients around the world, which means if you've tried all but a few Canadian whiskies, the chances are pretty good Rick Murphy and his team had something to do with them.  The remaining 20% is bottled under the Alberta Premium and Alberta Springs labels for the Canadian market, along with the Tangle Ridge label available in the US and a few other markets.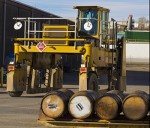 The distillery is on the edge of the Canadian Rockies, which means high altitude, low humidity, and lots of cold and snow. One of their innovations is a unique "straddle loader" to move barrels of whisky around without the risk of using a forklift in extreme weather.
In the news…still no arrests in the Pappy Van Winkle theft, Diageo opens a new Scotch whisky warehousing complex in Fife, and Jim Murray names his whisky of the year for the 2014 Whisky Bible.
Links:
Alberta Distillers
|
Old Rip Van Winkle
|
Diageo
|
Jim Murray's Whisky Bible
|
Glenmorangie
|
Collingwood
|
The Dalmore
|
Celtic Whiskey Shop
|
Fettercairn