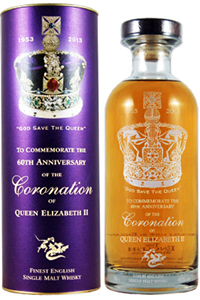 May 21, 2013 – June 2 marks the 60th anniversary of Queen Elizabeth's coronation in 1953, and while Great Britain celebrated the Diamond Jubilee of her rise to the throne last year, more celebrations are planned in the United Kingdom during the next few weeks.
The English Whisky Company, which was England's first legal whisky distillery in 100 years, is releasing a special single malt whisky to mark the occasion. The "Coronation Whisky" will go on sale May 23, and comes from 7 casks. 1, 850 bottles will be available worldwide, as well as through the distillery's web site.
For more on this whisky, listen to Mark Gillespie's interview with Andrew Nelstrop of the English Whisky Company in Episode 421 of WhiskyCast.

Links: English Whisky Company