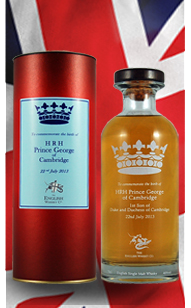 August 20, 2013 – Women give birth every day, but when one of those babies is destined to become the King of England one day, that's reason to celebrate — or at least, issue a special whisky to mark the occasion.
The English Whisky Company has released a limited edition to commemorate the birth of Prince George Alexander Louis of Cambridge on July 22. The whisky was matured in Sauternes wine casks, and only 299 bottles will be available through the distillery's web site. The release follows similar commemorative bottlings over the last 18 months to celebrate the wedding of the young prince's parents, Prince William and the Duchess of Cambridge, along with the Diamond Jubilee and Queen's Coronation expressions honoring Queen Elizabeth's 60th anniversary on the throne.
The "Royal Baby Bottling" is priced at £80.00 ($125 USD).  The bottle is not styled like a baby bottle, though.
Links: English Whisky Company