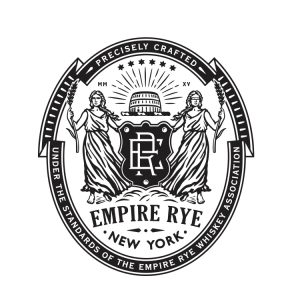 October 22, 2017 – New York's nickname is the Empire State, and of course, that is where New York City's landmark Empire State Building gets its name from. While New York's growing community of distillers has yet to achieve King Kong-like status, a handful of rye whiskey makers hopes their new Empire Rye style of whiskey can eventually become one of the whisky world's 800-pound gorillas.
"Our hope is that this stands up in time to all of the great whiskies of the world, and is categorically respected and uttered in the same breath as Kentucky Bourbon, Tennessee Whiskey, Single Pot Still Irish Whiskey, Scotch Single Malt, Japanese whisky…Empire Rye," says Christopher Briar Williams of Coppersea Distilling. His Hudson Valley distillery was one of the six founding distilleries behind the Empire Rye standard, which is not a specific brand of whiskey but a style of whiskey with specific parameters that allows each distillery its own creative flexibility.
The first whiskies certified as Empire Rye were introduced Saturday during an event at the New York Distilling Company in Brooklyn. In addition to Coppersea and New York Distilling Company, Black Button Distilling, Finger Lakes Distilling, Kings County Distilling, Tuthilltown Spirits, and Van Brunt Stillhouse have released whiskies that conform to the Empire Rye standard. Taconic Distillery and Yankee Distillers have whiskies maturing in their warehouses that will be released when they meet the standard.
"I think they're on the Rye-ght track," longtime distiller and industry consultant Dave Pickerell said with a laugh. Pickerell works with New York's Hillrock Estate Distillery, which has released rye whiskies in the past but has not become part of the Empire Rye project. He noted that Colonial-era distillers were making rye whiskey long before Bourbon became the dominant American-made whiskey style.
In New York, rye remained the predominant style of whiskey for the state's distillers right up until Prohibition brought an end to whiskey production in the state. The industry only began to come alive again when Tuthilltown Spirits co-founder Ralph Erenzo lobbied state legislators to create a special class of licenses for farm distilleries in 2007. Distilleries operating under those licenses must use grain or fruits grown within New York for at least 75 percent of their production, and the Empire Rye creators decided to make that the cornerstone of their standard.
"In deciding what a New York State whiskey should be, and having determined that that whiskey should be a rye, it was fairly simple for us to kind of look at that and say 'oh, if we have to use 75 percent New York grain anyway, let's require that the entire 75 percent be New York State-grown ryes'," Williams said in a telephone interview for this week's WhiskyCast. The Empire Rye standard is stricter than the federal government's rye whiskey standard, which requires only that rye make up at least 51 percent of the mash bill (recipe).
Listen to Mark Gillespie's interview with Christopher Williams:


The standards for Empire Rye are based largely on the U.S. Bottled-in-Bond Act of 1897, with two exceptions. The Empire Rye standard only requires two years of maturation instead of the law's four-year minimum and does not specify that a conforming whiskey be bottled at 100 proof (50% ABV).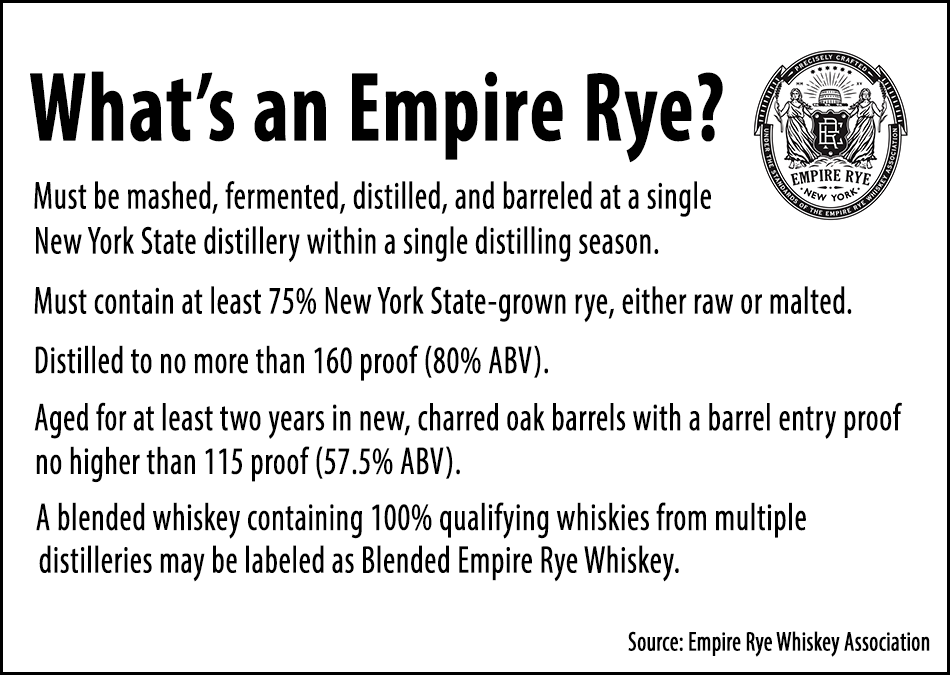 "We all liked the language of the Bottled-in-Bond Act in terms of insisting upon the provenance of the whiskey in terms of the distillery…so basically, you can't source Empire Rye," Williams said. "The authenticity of the whiskey in terms of where it's coming from cannot be fudged." Of course, an Empire Rye whiskey that has been matured for at least four years and is bottled at 50% ABV could legally use the "Bottled-in-Bond" designation.
The Empire Rye standard is not an official standard of identity as defined under federal regulations, but is owned by the Empire Rye Whiskey Association, a partnership of the founding distilleries and those who have signed on over the two years of development leading up to the public introduction. New York State has more than 100 licensed distilleries, though it is estimated that only between 70 and 80 are actively distilling at this time. At least four additional distillers have committed to distilling whiskey that will meet the Empire Rye standard, and any of the state's distillers who choose to are eligible to have their whiskies certified as Empire Rye.
"We're New Yorkers, and we love New York," Williams said. "This is kind of our love poem to New York, to the extent that whiskey is our art, this is our gift to the state, and hopefully … to the world."
Links: Empire Rye Whiskey Association | Coppersea Distilling | Black Button Distilling | Finger Lakes Distilling | Kings County Distillery | New York Distilling Company | Taconic Distillery | Tuthilltown Spirits | Van Brunt Stillhouse | Yankee Distillers