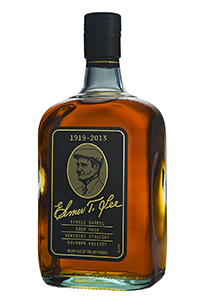 April 3, 2014 – When Buffalo Trace Master Distiller Emeritus Elmer T. Lee passed away last year at the age of 93, he left behind not only a legacy of service to the Bourbon industry, but also to his country. Buffalo Trace is honoring that legacy with a limited-edition release of Elmer's namesake single barrel Bourbon to benefit the Veterans of Foreign Wars Post #4075 in Frankfort, Kentucky. Elmer was a proud member of the VFW post, having served as a radar bombardier in the Army Air Corps during World War II.
The whiskey for this commemorative edition comes from the same warehouse location Elmer preferred for the casks he selected to be bottled under his name until shortly before his death. However, it has been bottled at 93 proof (46.5% ABV) instead of the usual 45% ABV in honor of Elmer's age when he died on July 16, 2013, just a few weeks shy of what would have been his 94th birthday. The square bottle remains the same, but carries special labeling that includes a tribute to Elmer T. Lee.  In a news release, Buffalo Trace's Kris Comstock said all profits from the sale of the limited-edition release will go to the VFW post in Frankfort.
"We're remarkably fortunate to have known Elmer. His contributions to the bourbon industry, Buffalo Trace Distillery and all our lives are countless. We want to honor our friend and give back to his family and his favorite cause, the Veterans of Foreign Wars."
The commemorative bottles will be available at retailers starting this month with a recommended retail price of $39.99 USD. Buffalo Trace has pledged to keep producing the standard Elmer T. Lee Single Barrel Bourbon "as barrels come of age and are deemed worthy of Elmer's legacy."
Listen to Mark Gillespie's 2006 interview with Elmer T. Lee.

Links: Buffalo Trace