July 16, 2013 – Elmer T. Lee was a legend in the world of Bourbon. From 1949 until his "retirement" in 1985, he rose through the ranks at what we know today as Buffalo Trace Distillery, from the engineering department all the way to distillery manager. As Buffalo Trace CEO Mark Brown put it today in a brief statement, though, Elmer "never really retired", serving as an ambassador for the distillery and visiting every Tuesday as his health allowed to taste samples for his namesake Bourbon.
Elmer passed away today after a brief illness at the age of 93, leaving behind thousands of friends worldwide and a real impact on the world of Bourbon. It could be said that his legacy is Bourbon's worldwide popularity today, since he was responsible for introducing the first widely available Single Barrel Bourbon when Blanton's hit the market in 1984. While the concept was unusual at that time, it helped pave the way for almost every major Bourbon producer to release Single Barrel Bourbons in the years that followed.
In November, 2006, Elmer agreed to sit down for an interview and talk about his career at the George T. Stagg/Buffalo Trace Distillery:
Below is the statement from Buffalo Trace's Mark Brown on Elmer's passing:
July 16, 2013

Dear Friends,

It is with a very heavy heart that I share with you that our beloved Master Distiller Emeritus Elmer T. Lee, 93, passed away today, July 16, 2013 after a short illness.

In the world of making really fine whiskey the role of Master Distiller is pivotal, but Elmer's meaning to those he met, came to know, and worked with closely extended far beyond that of a Master Distiller. Elmer defined, in the simplest terms, what it means to be a great American – hard working, self-made, courageous, honest, kind, humble, and humorous.

Elmer was born in 1919 on a tobacco farm near Peaks Mill in Franklin County, Ky. He graduated from Frankfort County High School in 1936 and worked for Jarman Shoe Company until December 1941. He then served with the U.S. Army Air Force in World War II as a radar bombardier on a B-29. After flying missions against Japan through 1945, Elmer was honorably discharged in January 1946. He returned home and studied engineering at the University of Kentucky, where he graduated with honors in 1949.

In September 1949 Elmer began working in the engineering department of the George T. Stagg Distillery in Frankfort. In 1966, Elmer was promoted to plant superintendent, responsible for all plant operations and reporting to the plant manager. 1n 1969, he became plant manager.

But it was in 1984 that Elmer's contribution to the bourbon industry gained him the most notoriety, when he introduced Blanton's, the world's first Single Barrel Bourbon. Elmer retired in 1985 but continued to serve as an ambassador for Buffalo Trace, and in 1986 he was honored with his very own single barrel bourbon, Elmer T. Lee. Of course, for those of us who knew Elmer, he never really retired. Every Tuesday we could see Elmer making his rounds at the Distillery in his trademark cap, signing bottles, posters, and other memorabilia at the Gift Shop, visiting his friends in Blanton's Bottling Hall, and tasting bourbons (for quality control purposes!) in the lab.

Elmer was always ready to offer advice, and was a wealth of information that many of us relied on, myself included. Harlen Wheatley would inquire with Elmer when stuck on a mechanical problem, and any historical questions about the Distillery always went to Elmer, who, with his razor sharp memory, could invariably answer. To all of us, Elmer was a friend, a mentor, and a trusted advisor.

Elmer was known through the bourbon industry for his expertise and knowledge about bourbon whiskey and he received numerous awards and recognition, including induction into the Bourbon Hall of Fame in 2001, the Lifetime Achievement Award from Whisky Advocate in 2002, and the Lifetime Achievement Award and Hall of Fame induction from Whisky Magazine in 2012.

We have lost a wonderful friend today, and he will be missed terribly.

Services for Elmer T. Lee are pending and will be announced shortly.

Sincerely,

Mark Brown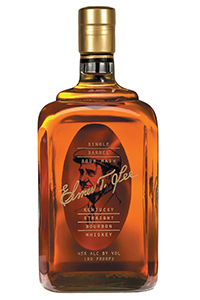 In 1986, shortly after he officially retired, the distillery named a Bourbon in his honor. At the time, Elmer was the only living distiller to have a whiskey bearing his name, and was later followed by his longtime friends Jimmy Russell (Russell's Reserve) and Parker Beam (Parker's Heritage Collection).
During our 2006 interview, Elmer said the only stipulation that he made was that he be allowed to select the barrels used for his whiskey. He continued that practice until recently, visiting Buffalo Trace on Tuesdays to taste samples selected for him and giving them his blessing for bottling. In 2009, Buffalo Trace released a special 90th Birthday bottling of Elmer T. Lee Bourbon to honor him on his 90th Birthday.
Our condolences go out to Elmer's family, friends, and his colleagues at Buffalo Trace.