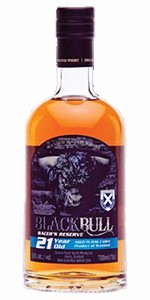 February 23, 2015 – Duncan Taylor & Company's Black Bull Blended Scotch Whisky is hitting the track for the third straight season with the Ecurie Ecosse sports car team, and for the first time, the brand is marking the partnership with a special bottling. Black Bull Racer's Reserve is a 21-year-old blend that was created in partnership with the team's four drivers following a 2013 nosing and blending session in Huntly. The drivers selected casks from Springbank, Bladnoch, Glen Moray, and Royal Brackla, as well as other malt and grain whiskies to be used in the blend.
Ecurie Ecosse's Black Bull BMW Z4 GT3 will compete in the Blancpain Endurance Series for the second consecutive season after making its initial debut in the European Le Mans Series in 2013. The team is best-known for winning in the 24 Hours of Le Mans in 1956 and 1957, along with sports car championships in the 1980's and 1990's.
The Racer's Reserve is bottled at 50% ABV, and is available in the UK through Master of Malt and Single Malt Direct. It is also available in other markets, though according to Duncan Taylor's Peter Currie, there are currently no plans to make it available in the US.
Links: Black Bull | Ecurie Ecosse