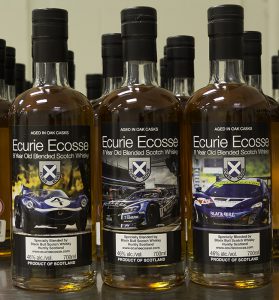 September 22, 2016 – While the focus of this year's 24 Hours of Le Mans was centered on the 50th anniversary of Ford's legendary dominance of the 1966 race, 2016 is also the 60th anniversary of one of the high marks in Scottish motor racing. In 1956, the Ecurie Ecosse Jaguar D-Type won the overall title at Le Mans with drivers Ron Flockhart and Ninian Sanderson. Flockhart repeated as champion the following year with Ivan Bueb, while Sanderson and John Lawrence gave the team a 1-2 finish.
To celebrate the 60th anniversary of the 1956 race, Duncan Taylor is releasing a special Ecurie Ecosse Scotch Whisky. The eight-year-old blend has three different labels featuring three of Ecurie Ecosse's cars: the 1956 Jaguar D-Type Le Mans winner, the 2015 BMW Z4 that won overall honors in last year's 24 Hours of Spa, and this year's McLaren 650S GT3 car that competed in the British GT Championship. Duncan Taylor's Black Bull brand has been the primary sponsor for Ecurie Ecosse's racing program for several years, and the new blend was unveiled at a party Wednesday night in Oldmeldrum to cap off the 2016 season.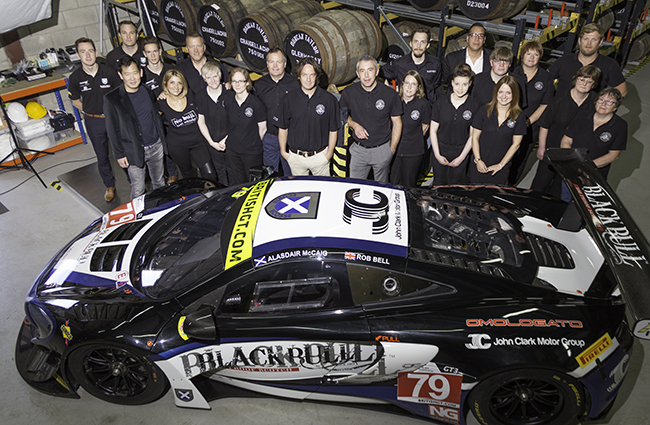 During the evening, two sets featuring all three bottles signed by the Ecurie Ecosse drivers, team principal Hugh McCaig, and Duncan Taylor chairman Euan Shand were auctioned to raise money for Race Against Dementia. Sir Jackie Stewart founded the Alzheimer's charity after his wife Helen was diagnosed with the disease in 2014, and the auction raised £2,000 GBP ($2,615 USD). The three-time F1 World Champion is one of the many Scottish racers who have competed for Ecurie Ecosse, along with F1 World Champion and 1965 Indianapolis 500 winner Jim Clark.
The evening also served as a "retirement" celebration for Euan Shand, who announced his plans to step back from managing the company's day-to-day operations. Shand has owned Duncan Taylor since 2001, when he acquired the company and its stocks of whisky originally laid down by the late Abe Rosenberg. While he will still be heavily involved in buying and selecting casks of whisky for bottling, CEO Moji Shand and newly-hired general manager Gavin Birnie will manage the company's operations in Huntly, Aberdeenshire and Southern California.
The Ecurie Ecosse blend will be available at UK whisky shops and through Duncan Taylor's Whiskies of Scotland online shop at SingleMaltsDirect.com, with a recommended retail price of £28 per 700ml bottle.
Links: Duncan Taylor | Ecurie Ecosse | Race Against Dementia | SingleMaltsDirect.com