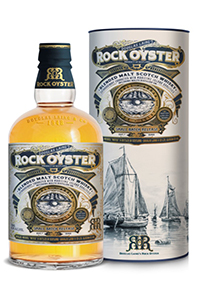 January 14, 2015 – "Island Time" may be a more appropriate expression for the Caribbean than Scotland, but Douglas Laing & Co. is looking to Scotland's islands as the inspiration for its latest Blended Malt. Rock Oyster uses malts from several of Scotland's island distilleries, including Islay, Jura, Orkney, and Arran. The result is a blend with a maritime character, according to Douglas Laing managing director Fred Laing.
"Rock Oyster showcases the archetypal Island character of gentle peat-smoke, vanilla'd honey and salt. If I could select just one dram to transport the Whisky enthusiast to the Islands of Scotland, it would be this one," he said in a news release announcing the launch of Rock Oyster. The new expression joins other similarly-themed Blended Malts in the Douglas Laing range, including Big Peat (Islay), Scallywag (Speyside), and Timorous Beastie (Highlands).
Rock Oyster is bottled at 46.8% ABV and will be available at whisky specialist retailers starting this month.
Links: Douglas Laing & Co.