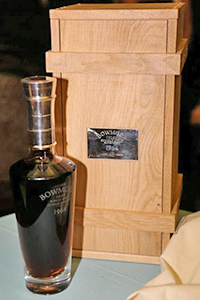 October 18, 2013 – A one-of-a-kind 1964 Bowmore brought the highest bid of 2013 for whisky auctions worldwide during the Worshipful Company of Distillers charity auction Thursday night in London. The bottling was created specifically for the auction, and went for £61,000 ($98,600 USD). In a news release, the Worshipful Company of Distillers says the Bowmore also became the second-highest priced whisky ever sold at a live auction, as well as the highest-priced Bowmore bottling ever sold at auction.
The group is one of the original livery companies that makes up the City of London, and was founded in 1638. Today, its main function is to raise money for local and industry charities. The auction raised more than £250,000 ($404,000 USD) for four charities: The Benevolent, Trelya, the Alcohol Education Trust and The Distillers' Charity.
Other lots included a rare four-bottle set of Hazelwood single malts commemorating the 90th, 100th, 105th, and 110th birthdays of the late Janet Sheed Roberts, a granddaughter of William Grant & Sons founder William Grant. The set brought a winning bid of £31,000 ($50,120 USD). Another whisky bottled specially for the auction, The Dalmore 1964 One of One, went for £28,000 ($45,270 USD).
The evening began with a special appearance by legendary Formula One driver Sir Jackie Stewart, who donated a bottle of the 1993 Jim Clark Festival pure malt whisky from his collection and auctioned it for £1,500.