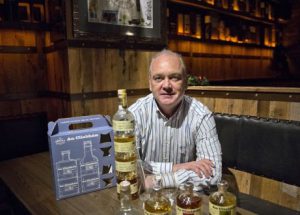 July 31, 2016 – Oliver Hughes, the founder of Ireland's Dingle Distillery and the Porterhouse Group of pubs, died Saturday at his home in Dublin. The Irish Times reports Hughes suffered an apparent heart attack just weeks after being treated for a heart condition.
Hughes and his cousin, Liam LaHart, founded the Porterhouse Group in 1989 with their first pub in Bray, Ireland. The business has grown to include pubs in Dublin, London, and New York City as well as the Dingle Distillery, which Hughes opened in December of 2012 with the first still run. While his whiskey was maturing, Hughes and Porterhouse opened the Dingle Whiskey Bar in the heart of Dublin and sourced whiskey from Cooley for Dingle Gold to build awareness for the brand, which also includes an award-winning gin and vodka. The first Dingle Whiskey was bottled earlier this year.
"We're the first off the blocks," Hughes said in a 2014 WhiskyCast interview, noting that Dingle was the first of Ireland's craft distillers to start laying down spirit. At the time, Dingle was the only Irish distillery other than the so-called "big three" of Midleton, Bushmills, and Cooley, and Hughes is credited with helping to spearhead the resurgence in Irish craft distilling.
Oliver Hughes was 55 years old.
Editor's note: We have corrected the headline to reflect that Mr. Hughes was born in 1961, not 1951. We regret the error.
Links: Dingle Distillery