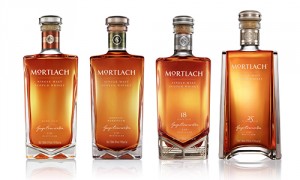 March 4, 2014– Diageo's plans to engineer Mortlach as a luxury single malt brand took a major step forward today with the unveiling of pricing and packaging for the four expressions to be released this summer.
The malts will come in bespoke bottles designed by the New York and Paris-based design firm Raison Pure. The bottles are a tribute to Scottish engineering heritage, with a range of girders and arches reminiscent of those found on the landmark Forth Bridge near Edinburgh.
In a telephone interview with WhiskyCast's Mark Gillespie, Diageo's Dr. Nick Morgan cited the Cowie family's engineering background as a key factor in the design. George Cowie founded Mortlach in 1823, and his son Alexander later took over management of the distillery. "In designing the bottles, we wanted to celebrate the Cowies, and we wanted to celebrate more broadly the great Victorian engineering tradition that's so largely writ across Scotland's history," Morgan said. "I think when you see, and your listeners see the bottles, they'll immediately understand where the designers Raison Pure have taken their inspiration from in order to produce bottles that are truly unique."

The four expressions will come in two sizes: Mortlach Rare Old, Rare Old Special Strength (travel retail exclusive), 18 and 25 year old will be sold in 500ml bottles in Europe and Asia, while the US will receive 750ml bottles. 500ml bottles are not legal for sale in the US under federal law. The initial rollout will come in late June and early July in London and Berlin, followed immediately by Singapore, Taiwan, Beijing, Shanghai, and Hong Kong. The Mortlach whiskies will arrive in New York, Chicago, and San Francisco this fall.
Pricing for the US market has not been determined yet because of the different bottle size, but Diageo has announced the recommended UK pricing for all four expressions (click the links for Mark Gillespie's tasting notes):
Mortlach Rare Old: £55
Mortlach Special Strength: £75
Mortlach 18: £180
Mortlach 25: £600
To learn more about the distillery and its unique 2.81X distillation process, listen to Episode 454 of WhiskyCast for a tour of Mortlach with distillery managers Steve McGingle and Sean Phillips, along with a discussion of the four expressions with Diageo master blender Dr. Matthew Crow.
Links: Classic Malts | Raison Pure