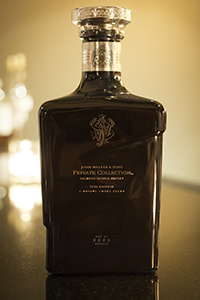 October 10, 2014 – Diageo has has released the latest in a series of high-end John Walker & Sons blended Scotch whiskies, with the US arrival of the John Walker & Sons 2014 Private Collection series. 8,888 decanters will be available worldwide, with a recommended retail price of $850 each, placing the Private Collection price-wise between the King George V edition of Johnnie Walker Blue Label and the John Walker & Sons Odyssey edition released last year.
The initial release in what will become an annual series comes from a group of unusual casks blended and set aside by Johnnie Walker master blender Dr. Jim Beveridge years ago with no definitive plans in mind for them. During a media tasting Thursday night in New York, Diageo's Ewan Morgan explained Beveridge's experiment with blending a group of malts from a variety of casks into a set of "re-juvenated" ex-Bourbon casks that had been re-charred for an undisclosed period of time. Eventually, the whisky was transferred to older "holding casks" that would have a minimal impact on the blend until Beveridge was ready to use it. Those casks were then blended with grain whiskies aged originally in first-fill ex-Bourbon casks and later in European Oak, along with smokier malts presumed to come from Caol Ila and Lagavulin.
The final blend was bottled at 46.8% ABV, and will be available at whisky specialist retailers.
In addition, Diageo's annual Classic Malts Special Releases series of single malts from a selection of the company's 28 malt whisky distilleries is working its way to retailers. The 2014 lineup includes the traditional bottlings from Port Ellen and Brora (both 35-year-old whiskies distilled in 1978), a 38-year-old Singleton of Glendullan from 1975, and a 30-year-old Caol Ila from 1983. The more esoteric expressions in this year's lineup include rare bottlings from Strathmill and Benrinnes, along with the unusual Clynelish Select Reserve. This expression carries no age statement, but was blended by Beverage from casks at least 15 years old.
Listen to Mark Gillespie's interview with Diageo's Colin Dunn

Pricing ranges from £80 GBP ($128.50 USD) for a cask-strength Lagavulin 12-year-old to £2,200 GBP ($3,534 USD) for the Port Ellen expression, which will have 2,964 bottles available worldwide. Availability for the 11 expressions in the series will differ by market.
Links: Johnnie Walker | Classic Malts