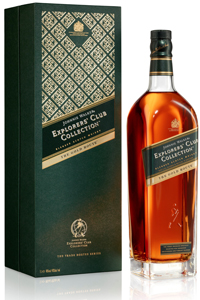 September 21, 2014 – After losing an initial round in New York Supreme Court and facing more costly legal battles ahead, Diageo has reached an agreement with The Explorers Club to settle the group's ongoing lawsuits over Diageo's use of the Explorers Club name on a line of Johnnie Walker whiskies. In August, Manhattan Justice Charles Ramos issued a permanent injection barring Diageo from using the Club's name on the travel retail range, citing a New York state law banning the commercial use of established names for "benevolent, humane, or charitable" organizations without permission. Diageo had appealed the ruling, and also faced a separate trademark infringement suit in federal court over its use of the name. Talks between the two sides had broken down before the range was launched in late 2012.
In a news release issued late Friday, both sides announced that Johnnie Walker will become a corporate sponsor for The Explorers Club through a global sponsorship and licensing agreement. In the release, Johnnie Walker Global Brand Director Guy Escolme said "this collaboration with The Explorers Club brings the history and importance of exploration to life and allows us to share our joint passion for exploration and discovery.  The Explorers Club is leading the way in world exploration, and we are privileged to be able to join them in this extraordinary effort."
The club's 3,000 members range from mountain climbers to astronauts, and past members have included legendary explorers such as Sir Ernest Shackleton. Explorers Club President Alan Nichols said in the release that "we salute Johnnie Walker for joining with us in furthering the quest for knowledge through exploration and discovery, which holds the key to all human progress.  With this new and exciting relationship, The Explorers Club will be able to enhance its grant programs, further develop its highly successful lecture series and educational events, and expand its role as the World Center for Exploration."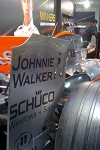 Terms of the agreement were not disclosed, but likely include royalties to be paid based on sales of the Explorers Club range in travel retail outlets worldwide. In the April court hearing before Judge Ramos, those sales during the first year of the Explorers Club range were estimated at $50 million USD.
Johnnie Walker has also decided to end its longtime support for the McLaren Formula One racing team, according to the Mirror, which placed the value of the sponsorship package at £155 million ($252.4 million USD) annually in a story published today. The brand will remain in Formula One by shifting that budget to become the official whisky of the series.
Links: Diageo | Johnnie Walker | The Explorers Club