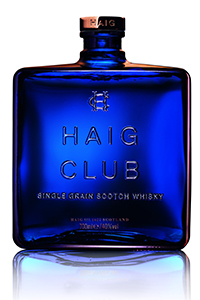 April 8, 2014 – Single grain Scotch whiskies have often been the red-headed stepchildren of the Scotch whisky industry: rare, unusual, and often maligned by connoisseurs. However, it's one of the few sectors with room for growth, and Diageo is planning a major push into single grains with the launch of Haig Club. The whisky was announced today as a partnership with soccer's David Beckham and entertainment entrepreneur Simon Fuller after more than two years of development.
While Haig Club is new, the House of Haig legacy goes back almost 400 years. Its modern legacy dates back to 1824, when John Haig founded the Cameronbridge grain distillery near Edinburgh and started producing whisky using continuous stills. Haig's name lives on with the Haig blended Scotch, and his legacy also includes the Dimple Scotch Whisky brand. Cameronbridge also produces the Cameron Brig single grain Scotch, sold primarily within Scotland.
"We take grain whisky very seriously," said Diageo Director of Whisky Outreach Dr. Nick Morgan in an interview at the World Whiskies Conference in New York City. "It's sometimes wrongly considered to be quite a passive ingredient in blended Scotch whisky — we think it's a very active ingredient, we pay a lot of care and attention to how we make it."
"We have a lot of skin in the grain whisky game, and we've always wanted to find an opportunity to bring different styles of grain whisky in front of consumers, and I think that's what we've done with Haig Club."
Listen to Mark Gillespie's entire interview with Dr. Nick Morgan

The launch of Haig Club follows last year's entry into premium single grain Scotch by William Grant & Sons, which released a 25-year-old single grain from its Girvan distillery and plans additional expressions this year. Unlike the initial Girvan expression, Haig Club will carry no age statement. According to Morgan, it is blended from Cameronbridge whiskies distilled from wheat and malted barley, followed by maturation in a mix of refill American Oak, first-fill ex-Bourbon casks, and rejuvenated casks.
Beckham and Fuller, the creator of "American Idol" and other media properties, are partners with Diageo in Haig Club, and were involved in developing the final blend for the whisky. The two will play key roles in developing the Haig Club brand and image as the whisky is launched later this year, while Beckham will also appear in a responsible drinking campaign for the brand. Haig Club is intended to be a non-traditional choice for consumers who want to try something different, with a focus on the cocktail market.
"The liquid has certainly been developed to be quite versatile," Morgan said. "We're looking at drinkers who possibly aren't engaged with the Scotch whisky category at the moment…they may be spirits drinkers, they certainly aspire to drink things like Scotch, but may have found the existing offerings on the market too much for them, a bit too difficult for one reason or another, a bit too stuffy and conventional perhaps. We're trying to bring a new age to Scotch with this product."
Pricing for Haig Club has not been announced, but will be released closer to the whisky's launch. According to Morgan, the whisky is likely to appear in global travel retail outlets first, with domestic rollouts in key markets near the end of the year.
Editor's note: This story was updated following an interview with Dr. Nick Morgan of Diageo in New York City.
Links: Diageo