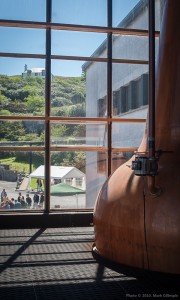 October 25, 2013 – With longtime Caol Ila distillery manager Billy Stitchell set to retire at the end of the year, Diageo has named David Wood to become the Islay distillery's new site operations manager when Stitchell steps aside after nearly 40 years at Caol Ila. Wood has been working at nearby Lagavulin Distillery, and is now training with Stitchell to learn Caol Ila's unique features.
"His background is at Lagavulin, and prior to that in whisky retailing," Diageo's Dr. Nick Morgan told WhiskyCast's Mark Gillespie in an interview. "Strangely, his career path mirrors that of Georgie Crawford (Lagavulin's current manager), who also came out of retailing into distilling, so there's a precedent for that."
Billy Stitchell is the fourth generation of his family to work at Caol Ila over the years, and the family is being honored with this year's Caol Ila expression in Diageo's annual rare malts release, the Caol Ila Unpeated Stitchell Reserve. It's one of the rare times Diageo has honored an individual distiller or family of distillers on a single malt release.
"We really felt, and by coincidence, not design, it was simply a great opportunity to acknowledge the fact that Billy has been at Caol Ila for almost 40 years," Morgan said.
"His family have been there for several generations, both at Caol Ila and other distilleries around and about there, and in these days, that's a pretty unique contribution to the industry. As we look forward, it will probably be an even more unusual occurrence, and I don't think you can let that pass without acknowledging it, even if it is sort of an exceptional thing for us to do."
The Stitchell bottling will be available at retailers during November, with a recommended retail price of £70 ($113) for the cask-strength (59.6% ABV) single malt.
Links: Caol Ila