August 21, 2014 – Diageo's newest distillery is still two years away from producing its first spirit, but work has begun on what will be called the Bulleit Distilling Co. in Shelby County, Kentucky. A groundbreaking ceremony for the $115 million project was held today at the 300-acre site along Benson Pike east of Shelbyville, about halfway between Louisville and Lexington just off Interstate 64.
"It's a brass ring…it's a life dream for me," Bulleit Bourbon founder Tom Bulleit said during a telephone interview with WhiskyCast's Mark Gillespie following the ceremony. The distillery's name had not been announced until the ceremony, but it will be named for the Bulleit family, which started making whiskey in Kentucky before the Civil War when Augustus Bulleit produced whiskey for nearly 30 years before disappearing while transporting his whiskey to New Orleans in 1860. Tom Bulleit is his great-great-grandson, and revived the family business in 1987 before selling it to Seagram's, and the brand is now the primary Bourbon in Diageo's global portfolio.
In a news release, Diageo North America president Larry Schwartz said "Tom Bulleit has a genuine passion for his bourbon that he shares with everyone he meets.  The growth of the Bulleit brand is the result of many years of investment and the relationships Tom has built.  We are proud to be breaking ground on the new home of Bulleit Bourbon in this wonderful location in Shelby County."
Listen to Mark Gillespie's interview with Tom Bulleit: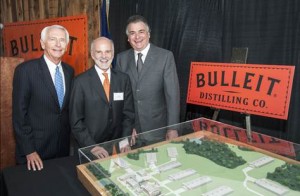 The distillery will have a capacity of 1.8 million gallons of spirit when it opens, and Tom Bulleit said most of the production will be dedicated to Bulleit Bourbon. "We'll make Bulleit here, and we'll see what else," he said. Diageo executives have said the facility will also be used to produce whiskey for use in other Diageo brands, without giving any specifics.
As WhiskyCast first reported last September, Four Roses gave Diageo notice that it would terminate its contract to distill spirit for Bulleit at the Lawrenceburg, Kentucky distillery at the end of March. Executives from both companies have declined since then to comment on the status of the contract, and Tom Bulleit said today that provisions have been made to meet Diageo's needs until the new distillery goes into production. "I never comment on our supply contracts that we have for supply contracts with people and have had through the years since we were with Seagram's," Bulleit said. "We think we're gonna be fine…we've made provisions."
No master distiller has been named for the distillery yet, and the facility is not currently expected to have a visitors center or be open for tours. Earlier this year, Diageo opened The Bulleit Experience at Stitzel-Weller Distillery in Louisville to the public after using it exclusively as a training center since 2011. The attraction will also showcase Diageo's new Orphan Barrel line of whiskies matured at Stitzel-Weller.
Editor's note: During the telephone interview with Tom Bulleit, Mark Gillespie referred to the distillery's annual capacity as 750,000 gallons, when the reference should have been to approximately 750,000 cases of whiskey. This story was updated to include comments from Diageo's Larry Schwartz and a photo from the ceremony, both supplied by Diageo. 
Links: Diageo | Bulleit Bourbon