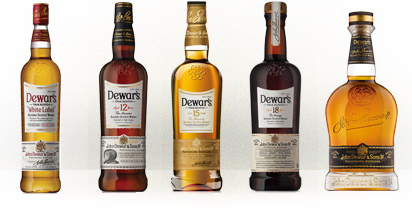 April 7, 2014 – The five blended Scotches that make up the Dewar's range of whiskies are getting new packaging designed to focus on the brand's heritage. The move comes as Dewar's parent Bacardi implements a new marketing campaign under the banner "True Scotch Since 1846." The UK, Spain, and Greece will see the new bottles first, with a gradual rollout worldwide across all markets.
The highlight of the new bottles includes a Celtic trefoil knot embossed above the label on the front of each bottle in the range. In a news release, the company noted that the interlocking "D's" represent the three men at the heart of the Dewar's legacy: John Dewar and his sons, John Alexander Dewar and Tommy Dewar. Dewar's executive Stephen Marshall told WhiskyCast the re-design is a return to that legacy. "The essence of the brand is really about people being true to themselves," he said during an interview at the World Whiskies Conference in New York City. "It was important to reference that and show that in the packaging."
"We took a step back…we went into the archives and took a great agency (Stranger & Stranger) with us, looked at the pack through the years, and we thought, right, we need to get back to that authenticity that we used to have. Although it was a great design (the current packaging), we felt it wasn't as effective as it had been in the past."
In addition, the packaging for Dewar's Signature will also include a certificate of authenticity signed by Master Blender Stephanie Macleod, the seventh person to serve as Master Blender for the Dewar's range since 1846. The changes also include a major upgrade at the Dewar's World of Whisky visitors center located at Aberfeldy Distillery near Pitlochry in the Scottish Highlands. The center will reopen later this month after being closed for renovations. Marshall noted that the World of Whisky had not been updated since its opening in 2003, and among the new features will be a blending lab where visitors can create their own personal blend.
Aberfeldy's single malt range is also receiving a new packaging design, which Marshall said will be unveiled later this month.
Editor's note: This story was updated on April 10 following an interview with Stephen Marshall of Dewar's. 
Links: Dewar's