December 11, 2013 – A Canadian whisky blogger has filed a complaint with DISCUS, the Distilled Spirits Council of the United States, over an online video ad for Dewar's Scotch Whisky. The "Meet the Baron" video was pulled from YouTube and other web sites Tuesday evening after Johanne McInnis, Fred Minnick, and other whisky bloggers led a Twitter-based campaign accusing Dewar's of sexism and prejudice against overweight women.
The video showed "The Baron," a suave, charismatic man saving his friend from several predicaments, including stepping in as an overweight blonde woman approached the man at a bar — as the voiceover referred to "jumping on an explosive" to protect his friends. The video also features actress Claire Forlani as the Dewar's spokesperson watching from the sidelines as "The Baron" and his friend meet with a group of women referred to as the "Swedish Bikini Team." While the video has been removed from the web, along with the initial tweet from Dewar's responding to McInnis and other critics, the comment was retweeted by McInnis on her feed with her response.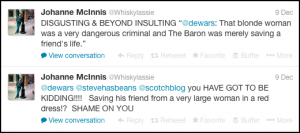 McInnis's online petition (which has also been removed from ipetitions.com) demanding that Dewar's withdraw the video received international attention on social media sites.  When WhiskyCast asked for a Dewar's executive to respond to the critics' charges, the PR agency for Dewar's parent company Bacardi provided this response by email.
Dear Mark,
In regards to your inquiry on DEWAR'S 'Meet the Baron' video, below please find a statement from the DEWAR'S Team. Thank you.

Regarding your inquiry about the DEWAR'S 'Meet the Baron' video, we value your feedback, whether it's critical or complimentary, and appreciate your effort in taking the time to write to us.
While we strive to be inclusive of many demographics, we have a wide array of consumers who respond to a variety of unique and focused marketing messages, in different ways.
The Baron – represents a camaraderie that is important to our target consumer, and is one character under 'The Drinking Man's Scotch' campaign, which features a strong and successful female icon as the spokesperson for the brand.
We understand our communications may not always appeal to everyone; however, it is feedback like yours that allows us to continuously evaluate our marketing efforts – upon further review we have decided to remove the video from our YouTube page.

Again, thank you for taking the time to write to us.

Best regards,
The Dewar's Team
However, Dewar's stopped short of apologizing for the ad, which prompted additional responses from McInnis, Minnick, and other critics.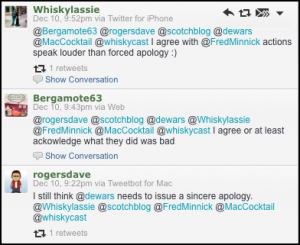 McInnis' complaint to DISCUS focuses on the trade body's Code of Responsible Practices, which outlines the industry's self-imposed standards for alcoholic beverage ads and media placement, with specific language regarding sexism:
Beverage alcohol advertising and marketing materials should not degrade the image, form, or status of women, men, or of any ethnic, minority, sexually-oriented, religious, or other group.
Bacardi is a member of the Distilled Spirits Council, and the complaint will be subject to review by the Council's Code Review Board. The only penalty the Code provides for is that a violating company would be asked to revise or withdraw the ad. However, that often results in significant costs to a company, according to DISCUS spokesman Frank Coleman. "In many cases, it can cost thousands, hundreds of thousands, even millions of dollars to change placements that are found to be in violation, and that's a very serious threat," Coleman told WhiskyCast's Mark Gillespie in an interview. In addition, DISCUS posts all Code complaints and the results of Code Review Board rulings on its web site for public review, and Coleman indicated that that threat serves as a deterrent to most potential violations. The trade body has a 100% compliance record among its members, with substantial compliance in complaints filed against non-members. The last whisky ad campaign to be reviewed by the Code Review Board was Wild Turkey's "Give 'Em The Bird" campaign in 2011, which featured people raising their middle fingers to the camera. The board decided that violated the Code's standards on good taste, and Wild Turkey complied with a request to withdraw the ads.
As previously mentioned, Dewar's has already removed the ad from its social media accounts on YouTube and other web sites.
Editor's note: This story was updated with additional comments and information.
Links: Dewar's' | Distilled Spirits Council