December 4, 2013 – While Dewar's may have created some controversy among whisky lovers with its Highlander Honey release, the idea was to create something that bartenders could work with. The PR agency for Dewar's supplied these three cocktail recipes featuring Highlander Honey.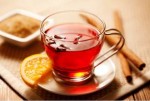 Dewar's Highlander Honey Hot Toddy
1 ounce Dewar's Highlander Honey
3 oz. hot water
1 tea bag
1 tablespoon of honey
1/4 lemon (juiced)
Heat water and add the tea bag to make hot tea. Separately, coat the bottom of a mug with honey, add Dewar's Highlander Honey and the lemon juice. Pour the hot tea into the glass and stir.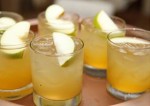 Dewar's Honeysuckle Sour
1.5 ounces Dewar's Highlander Honey
1/2 ounce Cointreau
1/2 ounce fresh-squeezed lemon juice
1/2 ounce fresh-squeezed orange juice
1 bar spoon sugar
Shake all ingredients with ice and strain into a chilled cocktail glass. Garnish with orange zest.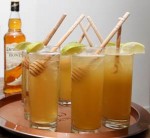 Dewar's Honey Apple Highball
1.5 ounces DEWAR‍'S Highlander Honey
2 ounces pressed apple
1 fresh lime wedge
Ginger Ale or Ginger Beer
Squeeze lime wedge over cubed ice in a small tumbler glass, add Dewar's Highlander Honey and pressed apple juice. Top off with Ginger Ale or Ginger Beer.