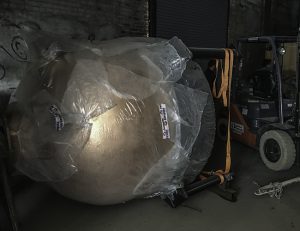 July 25, 2016 – Stepping over the footings for a wall in an old Philadelphia foundry, it's hard to see a link between the construction site and the city's heritage of distilling. That is, until you look in a corner and see a copper pot still from Scotland's Forsyths of Rothes lying on its side waiting to be installed. The graffiti-covered foundry in Philadelphia's Fishtown neighborhood between Interstate 95 and the Delaware River is part of an urban renewal project complete with concert venue, bowling alley, and soon, a distillery. Philadelphia Distilling, which makes Bluecoat Gin, will be moving into Fishtown from its original site in an industrial park in North Philadelphia later this year. That new still is there for one purpose: to give founder Andrew Auwerda and his team the ability to start making whiskey.
"Our distillers have been working in the laboratory at our current distillery on recipes," Auwerda said Sunday during a media tour of the site. "We are more than excited to be making some spirits meant for aging…we had an un-aged corn whiskey out for a few years, but we're really revamping the whole whiskey and starting from scratch."
Auwerda's Bluecoat Gin is the official gin sponsor for the Democratic National Convention's host committee, and the tour was organized by the Distilled Spirits Council for reporters attending this week's convention. "The craft distillers are an important component of the overall spirits industry, and we've got a couple of great members here in Philadelphia," said Kraig Naasz, the Council's president and CEO. While the Council organized Monday night parties in both Philadelphia and Cleveland during last week's Republican Convention, there was not a similar distillery tour in Cleveland, "Philadelphia has a plethora, and candidly, it was just more accessible for the folks that we wanted to entertain than it would have been in Cleveland," Naasz said.
From the top-floor space that will eventually become Philadelphia Distilling's offices and a venue for special events, Center City skyscrapers dominate the nearby skyline. 240 years ago when the Founding Fathers signed the Declaration of Independence in Philadelphia, what we know today as Independence Hall was one of the city's tallest buildings. Nearby, though, distillers were making rye whiskey from Pennsylvania-grown grain in an industry that called Philadelphia home up until the 1970's, when Continental Distilling closed its massive distillery in South Philadelphia and the Kinsey Distillery in the Montgomery County town of Linfield northwest of Philadelphia.
At one time, Kinsey American Whiskey was one of the nation's top-selling brands, and a photo on display in the New Liberty Distillery shows crowds in Times Square for V-E Day in 1945 with a large Kinsey sign overlooking the scene. New Liberty founder Robert Cassell is reviving Kinsey and other heritage American Whiskey brands using whiskey sourced from several distilleries, while also distilling his own whiskey to be released beginning later this year. Cassell grew up about 10 miles away from the Kinsey Distillery in Linfield, and he had wanted to look for a way to revive the brand since he partnered with Auwerda in 2005 to found Philadelphia Distilling, the state's first "craft" distiller since the end of Prohibition.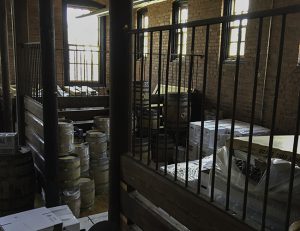 "When we started up here at the New Liberty Distillery, we were able to buy that trademark and reinvigorate this old Pennsylvania brand, Cassell said during the tour's stop at his distillery in Philadelphia's Northern Liberties neighborhood. The building was once a carriage house and stable, and whiskey barrels sit inside the two remaining horse stalls on the second floor. New Liberty's still, fermenters, and mash cooker dominate the ground floor, while the top floor has been turned into a tasting room and retail shop for New Liberty's spirits, including several different versions of Kinsey.
Jacob Kinsey started the brand more than a century ago in Linfield, and Cassell sees more than a passing resemblance between Kinsey and many of today's craft distillers. "He sold all of his interests in the dairy industry and said 'I want to get into whiskey', which is funny because you see a lot of craft guys doing that same thing now where they do a total role reversal of industries," Cassell laughs.
Cassell is also the president of the Pennsylvania Distillers Guild, and helped push for changes in state legislation to relieve some of the legal restrictions on craft distillers. Now, Cassell and his colleagues are able to sell both full bottles and drinks directly to consumers at their distilleries, bypassing the state-owned network of liquor stores and making it easier for small-scale distillers to build their brands.
New Liberty's shop also has a special series of commemorative whiskies for the Democratic National Convention, with "Madam President," "First Dude," and "Feel the Bern." Cassell produced the eight-year-old whiskies using many of the same casks he uses for Kinsey and his other heritage brands, and has sold several cases to event planners organizing parties for this week's convention.
In addition to the two distilleries featured on the Distilled Spirits Council tour, the Philadelphia area is home to several other craft distilleries. Red Brick Craft Distillery is making single malt whiskey using locally-grown and malted barley just a mile or so away from New Liberty in the Kensington neighborhood. Dad's Hat Pennsylvania Rye is produced in the Bucks County suburb of Bristol, Manatawny Still Works, Thistle Finch, and Bluebird Distilling produce whiskies in the western suburbs, and Cooper River Distillers just across the Delaware River in Camden, New Jersey released its Cooper River Rye whiskey earlier this summer.
Links: Distilled Spirits Council | Philadelphia Distilling | New Liberty Distillery | Pennsylvania Distillers Guild | Red Brick Craft Distillery | Dad's Hat | Manatawny Still Works | Thistle Finch | Bluebird Distilling | Cooper River Distillers