November 2, 2018 – Dave Pickerell, the master distiller and blender responsible for helping dozens of would-be whiskey entrepreneurs achieve their dreams, has died at the age of 62. He passed away Thursday in San Francisco, where he was scheduled to be at tonight's WhiskyFest sponsored by Whisky Advocate magazine, and where his next distillery project was also to be built. Pickerell had been touring this fall with the members of Metallica to promote their Blackened American Whiskey, and the next step was to build a distillery in the Bay Area to make their own whiskey. In fact, he, the four members of Metallica, and their management team were scheduled to visit the proposed site of the distillery Saturday morning to get Pickerell's final approval before moving forward with the project. Smooth Amber CEO John Billelo told WhiskyCast in a telephone interview that not only will the band go ahead with the distillery, but it will be named the Dave Pickerell Distillery when it opens.
According to Danielle Eddy, one of the publicists who worked with him on many of his projects, Pickerell had spent the day Thursday doing a full slate of appearances in the San Francisco area on behalf of his clients' brands, and returned to his hotel room to rest. He was found later in the evening, and died of natural causes.
As word spread of Dave Pickerell's passing, many of the distilleries he worked with posted tributes to him on their web pages. The members of Metallica took down the entire Blackened American Whiskey web site, and replaced it with a single image of Dave at one of their concerts.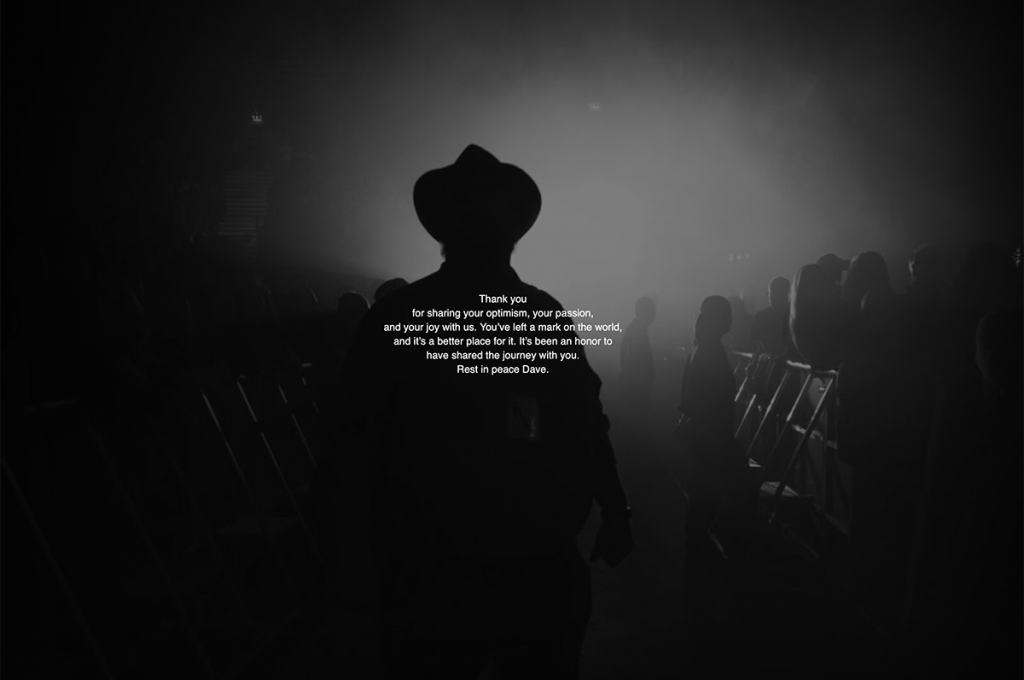 In a September WhiskyCast interview, when asked about his work with Metallica, Dave broke into song, singing "On the Cover of the Rolling Stone."
"Oh my God, this boy from the slums got his picture with Metallica in the Rolling Stone…what's not to love about that."
The feeling was mutual, according to John Billelo. "The reality is, we were on our way to becoming quite the family, and obviously, Dave will be terribly, terribly missed. There's not much we can say that hasn't been said other than the fact that there are very few people in life that walk the talk, and Dave was proud of saying that he did business by handshake…he was a true gentleman, a man of his word, an amazing artist in the spirit he created, but more importantly, he was a dear and wonderful person who enjoyed being around people, and we will miss him," Billelo said in a telephone interview Friday afternoon.
Billelo also passed on condolences from Metallica's Lars Ulrich, who was unavailable for a telephone interview because of rehearsals for the band's acoustic concert Saturday night to raise money for their All Within My Hands Foundation. "He adored Dave and the time they spent together and the whiskies he created for them, and like the rest of us, it's just a very, very difficult day," Billelo said. Dave had donated one of his trademark felt hats to be auctioned at the concert along with a bottle of Blackened signed by himself and the four members of Metallica. Billelo says the hat has been pulled from the auction, and will instead be displayed in the new distillery, which will also be named the Dave Pickerell Distillery in his honor.
Pickerell was a 1978 graduate of the U.S. Military Academy at West Point, graduating with a degree in chemistry and playing on the Army football team. He later received his Master's degree in chemical engineering from the University of Louisville in 1988 while serving in the Army, and after leaving the military,  went on to become a consultant in the distilling industry. One of his clients at the time was Maker's Mark, and Bill Samuels, Jr. hired him away in 1994 to become the distillery's Vice President of Operations and Master Distiller. Maker's Mark released a statement on behalf of the Samuels family Friday afternoon:
"We were very saddened to learn of the passing of Dave Pickerell and send our heartfelt condolences to the Pickerell family.  Dave was an accomplished and important figure in bourbon. He certainly made a mark on the industry he loved, and will truly be missed."
After leaving Maker's Mark in 2008, he founded Oak View Spirits and began working with startup distillery projects and whisky brands worldwide, along with serving as the original master distiller for the restored George Washington's Distillery at Mount Vernon in Virginia.
His partners and clients included Hillrock Estate Distillery in New York, J. Rieger & Sons in Kansas City, and Vermont's WhistlePig Farm, where Dave sourced the original Canadian Rye whisky that became the foundation for WhistlePig's early releases. In a statement, WhistlePig CEO Jeff Kozak said:
"To us, Dave was family. He was larger than life and truly part of the WhistlePig fabric. Working with him never felt like work. It was his passion, humor and storytelling that helped this brand come alive. Saying we are going to miss him isn't enough, and we will continue to honor his memory and keep him in our stories and our hearts."
Funeral arrangements are pending, but following a private service for the family in Kentucky, plans are being made for memorial services in several cities around the United States.
Please join us in expressing our condolences to Dave Pickerell's family and his many friends around the world.
Editor's note: Dave rarely discussed his age, and our original reporting that he was 70 years old was based on information provided by one of his publicists. We have since confirmed through West Point alumni records that Dave was born in 1956 and was 62 when he died. We regret the error. 
Links: Oak View Spirits | Blackened Whiskey | WhistlePig Rye  | Maker's Mark