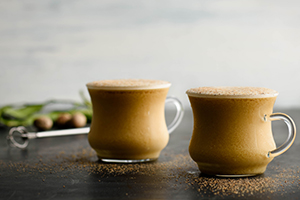 December 3, 2015 – While most of the recipes in the Cocktail Collection come from whisky companies, this one comes courtesy of Italian coffee roaster Lavazza and longtime cocktail guru Dale DeGroff. Dale's unusual take on egg nog uses Lavazza's Santa Marta blend, which is a medium-roasted Colombian coffee (in case you need to come up with a substitute) and George Dickel Tennessee Whiskey.
1 ounce Lavazza Santa Marta Blend (brewed)
1.5 ounces of apple cider
1.5 ounces of George Dickel Tennessee Whiskey
1 ounce of simple syrup
1 small egg
A dash of Dale DeGroff's Pimento Bitters
Add all ingredients into a shaker filled with ice. Shake vigorously and strain into an appropriate egg nog cup. Dust with nutmeg.