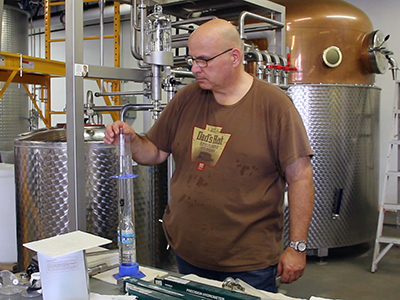 March 16, 2014 – Dad's Hat Pennsylvania Rye will become one of the rare American-made craft whiskies to become available in Europe when it goes on sale in France and other European markets in April. As first reported on this week's WhiskyCast, Bristol, Pennsylvania-based Mountain Laurel Spirits, which distills Dad's Hat in a converted wool mill north of Philadelphia, shipped 300 cases of its whiskey to La Maison du Whisky in Paris last week.
Co-founder Herman Mihalich told WhiskyCast's Mark Gillespie that La Maison du Whisky contacted them to inquire about distributing Dad's Hat in Europe. "When I lived in France, it was a cute little store downtown, but now it turns out they distribute all over Europe, Mihalich said. "They told me it'll be some time in the middle of April or so until they have everything in place, but we'll be distributed by them in France and across the EU." Mihalich was surprised by the inquiry, since he and co-founder John Cooper had not planned on seeking export partners for some time. In addition to operating two retail stores in Paris, La Maison du Whisky is a major distributor of spirits throughout Europe. It also publishes the French-language edition of Whisky Magazine and owns the Whisky Live Paris festival held each September.
The launch will include the flagship Dad's Hat Pennsylvania Rye, along with the vermouth cask-finished version released in 2013. Mihalich and Cooper only had to make minor changes to their packaging to comply with European Union standards. The labels were changed to read "Dad's Hat Pennsylvania Rye" — with the word "Whiskey" removed, since European law mandates a minimum of three years of aging for whiskies. They were able to use their existing 750ml bottles, but modified the bottling line slightly to fill the Europe-bound bottles at 700ml to comply with EU regulations.
The partners plan to release a straight rye whiskey later this year once their stock of maturing whiskey reaches two years of age. As of now, there are no plans to export that version to Europe.
Links: Dad's Hat | La Maison du Whisky