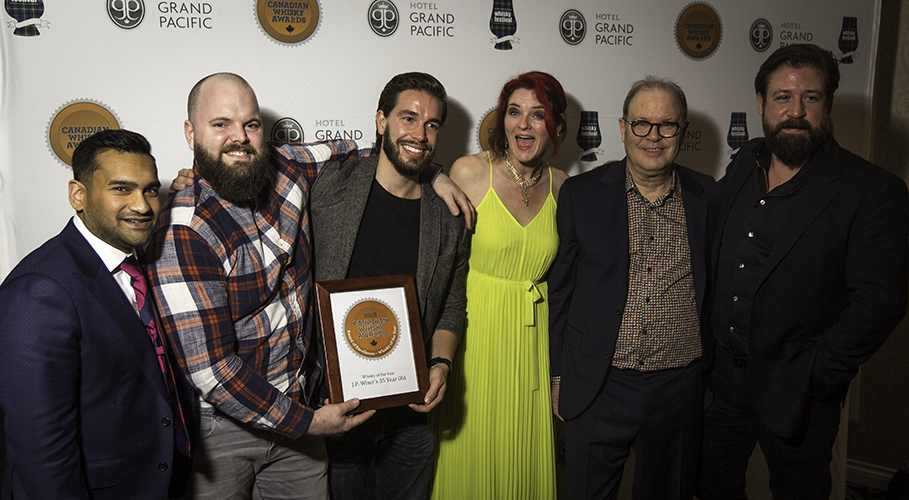 January 19, 2018 – Corby Spirit and Wine claimed top honors at the 2018 Canadian Whisky Awards, winning both Canadian Whisky of the Year and Distiller of the Year. During the awards banquet held at Victoria's Hotel Grand Pacific as the kickoff to the Victoria Whisky Festival, J.P. Wiser's 35 took the coveted award as the Canadian Whisky of the Year – presented to the highest-scoring whisky following blind judging by an 11-member panel of more than 80 different whiskies.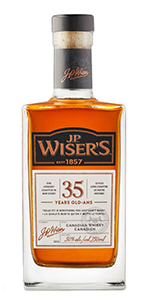 "We are ecstatic, we are pleasantly surprised, we are humbled … there are so many amazing, different Canadian whiskies that were released this year (during 2017)," said Dave Mitton, Corby's global brand ambassador for the Pernod Ricard unit's Canadian whisky portfolio. Mitton and his colleagues also accepted the Distiller of the Year award for Corby's Hiram Walker & Sons distillery in Windsor, Ontario, where the J.P. Wiser's 35-year-old whisky was distilled. The winning whisky was part of the 2017 Northern Border Collection Rare Releases series, which also included Lot 40 Cask Strength, Pike Creek 21-year-old Speyside Cask Finish, and the Gooderham & Worts Little Trinity 17-year-old three-grain whisky. The Wiser's 35 and Lot 40 Cask Strength were two of Corby's nine entries to receive gold medals out of a total of 22 awarded. Diageo's Crown Royal came in a distant second with four gold medals for various expressions.
"Extremely tight competition – whether it was the closest or not I can't remember from previous years, " said Canadian Whisky Awards founder Davin de Kergommeaux. "I can tell you this, the competition was fierce this year…some whiskies that might have won gold in other years, this year they were pushed down to silver because there were just so many other whiskies that were so good." While de Kergommeaux did not disclose the runners-up in the overall scoring during the ceremony, he did announce that the difference between the top three whiskies was .04 of a percentage point. The judges also awarded 24 silver medals and 39 bronze medals.
In its first year of competing in the Canadian Whisky Awards, Two Brewers, the single malt whisky produced by Yukon Brewing in Whitehorse, Yukon, took home a gold medal for its Peated Single Malt, while founders Bob Baxter and Alan Hansen won the Microdistillery of the Year Award for Two Brewers. The pair started their brewery in 1997 and bought their still in 2009, but did not release any of their whisky until 2017.
"We're so fortunate that we have a brewery, so we didn't have to rush anything to market," Baxter said after the ceremony. "We thought when we started 'we can wait three years, that's all good, not a problem,' but when we tasted it we thought – 'ahhh, it's going the right way, but it's not ready…what's one more year, and then another and another," he said. In the end, the youngest of the seven whiskies Baxter and Hansen have bottled so far is seven years old, with their eighth release scheduled to make its debut this weekend in Victoria. The Two Brewers whiskies are available only in British Columbia and Alberta, and will be listed soon in Quebec's SAQ provincial stores.
De Kergommeaux also honored three retiring leaders of the Canadian Whisky industry with lifetime achievement awards. Vicky Miller has been the chief blender for Black Velvet whisky in Lethbridge, Alberta for many years, while Rick Murphy and Jim Stanski are retiring after years of managing Alberta Distillers in Calgary and the Hiram Walker Distillery respectively.
A complete list of awards and medals can be found at the Canadian Whisky Awards web site.
Editor's note: WhiskyCast's Mark Gillespie has served as a judge in all eight Canadian Whisky Awards competitions.
Links: CanadianWhisky.org