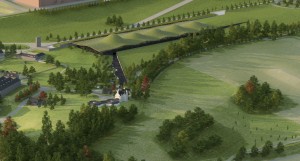 December 6, 2014 – Construction work has started on Edrington's new Macallan Distillery near Craigellachie, Scotland. Edrington chairman Ian Curle presided over a groundbreaking ceremony Monday for the £100 million ($168 million USD) project scheduled for completion in 2017.
The new distillery and visitors center will be built alongside the current Macallan distillery, which will be mothballed once the new distillery comes on line and kept in reserve for future use if needed. London-based architects Rogers, Stirk, Harbour and Partners designed the new complex, with much of the facility to be located below ground level and covered with hills to mimic the surrounding landscape. 
"We're well on track…it's hugely exciting," said Edrington director of malts Ken Grier during an interview Wednesday night in New York City. "The great thing about is the whisky will be just as good, if not better, than it always was…all the work we've done has been put in place to preserve the fine quality that we have, but we're going to have a site that will be the envy of everyone in the world."
The new distillery will be capable of producing 15 million liters of spirit annually, compared to 9.5 million for the current distillery.
Links: The Macallan | Edrington