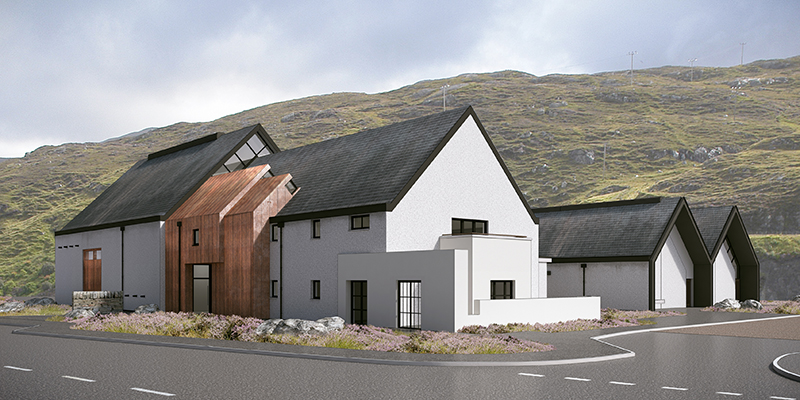 March 5, 2014 – The boom in distillery construction continues in Scotland, as work is now underway on the £10 million ($16.7 million USD) Isle of Harris Distillery in Tarbert. The distillery will be the first legal one to be built on the island in Scotland's Outer Hebrides, and is expected to open in the spring of 2015. The distillery will produce "The Hearach" single malt, using the Gaelic name for Harris residents, along with a Harris gin.
The project is being built with a combination of private and public investment and a goal of creating 20 full-time jobs on the economically distressed island. 17 private investors are taking part in the project, while the Scottish Government and Highlands & Islands Enterprise are providing a combined £2.8 million ($4.7 million USD) in economic development grants. In a news release, distillery director Simon Erlanger said the goal is to help improve the island's economy as well as make a good whisky.
"The Hearach single malt will create sustainable employment and economic growth and optimism for the people of Harris – while the spirit of Harris itself will shape the unique character of this new whisky. Harris is an elemental place. The way of life in the island has deep roots, its people take time to savour what they enjoy and we believe The Hearach single malt will reflect that."
The distillery will be capable of producing 300,000 litres of spirit each year once production begins, though the single malt will not be sold for several years while the initial production runs are maturing. Scottish law requires spirit to be matured for a minimum of three years before it can legally be called whisky.
Listen to this weekend's episode of WhiskyCast for more details on this story.
Links: Isle of Harris Distillery