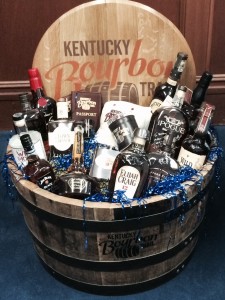 April 8, 2014 – Here's hoping that Connecticut Governor Dannel Malloy likes Bourbon, because he's going to be getting a lot of it. Malloy won a bet with Kentucky Gov. Steve Beshear after the University of Connecticut defeated the University of Kentucky Monday night in the NCAA men's basketball championship game.
Beshear didn't have to buy the Bourbon to pay off the bet, though. The Kentucky Distillers Association put up a half-barrel full of Kentucky Bourbon and other goodies in what has become an annual tradition. As Kentucky and Louisville moved on during the tournament, the stakes increased, according to KDA President Eric Gregory. "Each time the Cats won, we upped the ante and added more barrels, so he's going to get 13 bottles of our premium Bourbon brands, along with Bourbon Trail flasks, t-shirts, barrel heads, all sorts of things."
Gregory, a proud Kentucky fan and alumnus, congratulated Connecticut on the victory. "It was a great victory…we're sad to see the Bourbon go, but we'll make more," he said in an interview with WhiskyCast's Mark Gillespie at the World Whiskies Conference in New York City. Had Kentucky won the game, Gov. Malloy would have paid off with a basket of Connecticut wines, chocolate, and beer.
An email to Gov. Malloy's press office asking about the Governor's plans for the Bourbon basket was not returned. This story will be updated as more details are available.
Links: Kentucky Distillers Association