November 3, 2015 – "I'm not clear on who in the world in our industry would be pushing for less transparency and why they might want to do that." That's how Compasss Box founder John Glaser describes his frustration over his company's latest dispute with the Scotch Whisky industry, in which Compass Box was pressured to withdraw specific ages for the whiskies that were used to make "This is not a luxury whisky" and the Flaming Heart 15th Anniversary Edition.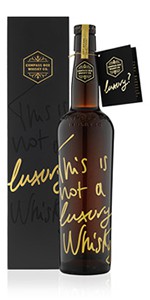 Marketing materials for both blended malts were withdrawn after the Scotch Whisky Association warned Compass Box that they violated UK and European Union laws banning spirits producers from disclosing anything other than the age of the youngest whisky or spirit in a bottle. According to both Glaser and SWA legal affairs director Magnus Cormack, another whisky producer reported the apparent violation to the SWA. While the association has no enforcement power of its own, HM Revenue & Customs could theoretically have taken action against Compass Box under the mandatory registration scheme put in place for Scotch Whisky producers last year. That program was intended to protect the industry against counterfeiting, but now also appears to provide some leverage against mavericks within the Scotch Whisky industry.
Listen to Mark Gillespie's interview with John Glaser: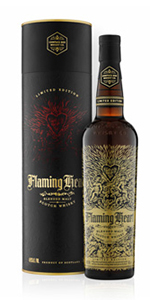 "I don't know the legal side of this," Glaser said in a telephone interview from Chicago, where he appeared at a Compass Box promotional event Monday night. "All we know is what the Scotch Whisky Association has said to us…somebody complained being fully transparent in the way we were about the whiskies is sadly illegal – that's not their word, that's my word sadly," he laughed. "We've taken down the information they referred to, what happens from here in terms of legalities I have no idea…we haven't looked at anything yet."
Critics on social media have slammed the SWA and industry leaders for fighting Glaser's attempt to make the blending process more transparent, and have suggested that other established whisky companies have done the same thing with recent releases without being sanctioned for the practice. Earlier this year, Berry Bros. & Rudd introduced The Glenrothes Vintage Reserve, which is blended from 10 of the distillery's vintage single malts. While the specific vintages have been disclosed, including a September media event in New York, they do not appear on the packaging or other promotional material – but a reference on the brand's web site refers to "a stunning combination of 10 carefully chosen Vintage from the last three decades."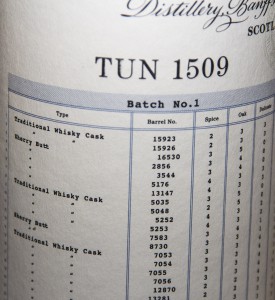 "If you are asked what goes in it, then you are permitted to disclose," said Ronnie Cox of Berry Bros. & Rudd. "What you are not allowed to do, obviously, is to write it down and put it forward as a promotional item. As far as we're concerned, there's no indication on the bottle or the label that this is the case…you're allowed to say it has several vintages in it, but you obviously have got to nominate the youngest vintage, because that's the age of the whisky," he said during a telephone interview.
Another example of coming close to the line, but not crossing it came in the fall of 2014 when The Balvenie released the first batch of David Stewart's Tun 1509 single malt. The whisky was blended from 42 separate casks, and the packaging included specific details on each individual cask – except for the actual age of each cask. This level of transparency falls within the legal limits, but is something John Glaser would like to be able to expand upon.
"Scotch Whisky producers should have the freedom – but not necessarily the obligation – to be as transparent as they want as long as they're doing it in a responsible way and not trying to mislead consumers. We will take that conversation forward with the industry and the Scotch Whisky Association and try to understand if there are other people who feel that way in the industry, and if so, what we can do about it."
In 2011, Glaser and his team challenged the industry by releasing "The Last Vatted Malt" one day before a section of the Scotch Whisky Act of 2009 took effect banning the use of "vatted malt" in favor of "blended malt." When asked whether an appropriate response to this controversy might be a bottling of "Transparency" (perhaps in a completely opaque bottle), Glaser laughed, but said "I'm not going to try to predict how we might deal with this one yet…it's still pretty early in the process."
Links: Compass Box | Scotch Whisky Association | The Glenrothes | The Balvenie