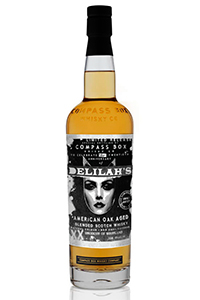 August 1, 2013 – Delilah's, the legendary Chicago punk rock and whisky bar, marks its 20th anniversary on August 29th, and Compass Box is releasing a special whisky to celebrate the anniversary. Compass Box Delilah's is a blended Scotch whisky developed jointly by John Glaser and Delilah's owner Mike Miller, and is a 50/50 blend of malt and grain whiskies.
The malt whiskies came from unnamed distilleries in Alness and Longmorn, while the grain whisky came from an unnamed distillery in Fife. They were matured in a combination of new American oak casks and rejuvenated American Oak hogsheads.
In keeping with the Delilah's tradition as a classic Chicago "shot and a beer" bar, the Compass Box Delilah's was blended to "be perfect served as a shot with a beer". The whisky will make its debut at the Delilah's 20th anniversary party on August 29th and go on sale globally the next day, with 6,324 bottles to be available.
Compass Box will also release a 10th anniversary edition of Peat Monster at the end of September in Europe and in the U.S. during October. There will also be a special limited edition run of 300 bottles at cask strength to be available exclusively at Park Avenue Liquor Shop in New York City, which commissioned the first peated Compass Box whisky in 2003. That whisky was named Monster, which later became Peat Monster.
Links: Compass Box | Delilah's | Park Avenue Liquor Shop