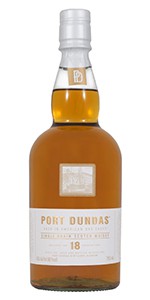 September 8, 2015 – It's been five years since Diageo closed its Port Dundas grain whisky distillery in Glasgow, but the drinks giant is releasing two new single grain whiskies from Port Dundas for the first time with 12 and 18-year-old expressions. The distillery opened in 1810 and survived for 200 years before it was closed, though its grain whiskies will still be used in blends for years to come.
The 12-year-old Port Dundas Single Grain was matured in ex-Bourbon casks and bottled at 40% ABV. It will carry a recommended retail price of $49.99 in the US. The 18-year-old version was also matured in ex-Bourbon casks. However, it was bottled at 43% ABV, and will carry a recommended retail price of $99.99 in the US. According to Diageo spokesmen, the US is the only market where the two expressions will be available.
As previously noted, this is the first time official distillery bottlings from Port Dundas have been available in many years. Diageo has previously released official bottlings from its Cameronbridge grain distillery in Edinburgh under the Cameron Brig label, and that distillery's whiskies are also used in the Haig Club single grain brand.
Editor's note: This story was updated with additional information.
Links: Diageo