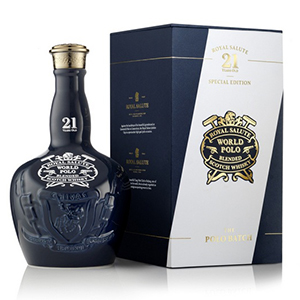 January 23, 2014 – Chivas Brothers is building on the links between its Royal Salute blended Scotch whisky range and the polo world with a new limited-edition release for travel retail markets in the Asia-Pacific and Middle East regions. The Royal Salute World Polo Batch marks Royal Salute's sponsorship of the global polo series, with the names of various events on the tour featured on the decanter.
The 21-year-old blend is the latest creation from Chivas Brothers Master Blender Colin Scott, who is celebrating two anniversaries — his 40th year in the whisky business during 2013 and his 25th year as Master Blender in 2014. The release also has personal ties for Scott, as he revealed in an interview with WhiskyCast's Mark Gillespie for this week's episode.
"My father-in-law, he used to play polo, and I've been involved and worked with polo ponies," he said. "There's a great power in there, yet there's a wonderful gentleness and agility and gracefulness about them." Scott says that helped inspire his blend for the World Polo Batch, with a goal of creating a whisky that was powerful, yet graceful in its smoothness.
As always, Strathisla's single malts form the foundation for this expression of Royal Salute, which will be available initially at airports in Dubai, Bangkok, Hong Kong, Kuala Lumpur, Seoul, and other major cities for a recommended retail price of around $150.
To hear the entire interview with Colin Scott, visit our WhiskyCast In-Depth series of profiles.
Links: Royal Salute