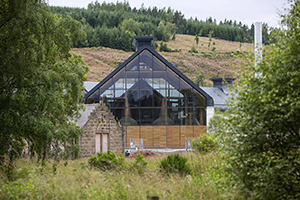 October 13, 2014 – Chivas Brothers has announced the name for its newest malt whisky distillery in Speyside, which has began production operations on the site of the former Imperial Distillery in Carron. The distillery will carry the name Dalmunach, which comes from the traditional name of a pool in the River Spey near the distillery site. Chivas Brothers executives never considered keeping the Imperial name for the new distillery, which was demolished in 2012 after being mothballed in 1998. It is the 14th malt distillery in the Chivas Brothers Scotch whisky portfolio, second only in size to Diageo's 28 malt distilleries.
As we reported in Episode 499 of WhiskyCast, the first mashing took place on September 30, with the first still runs taking place last week. Dalmunach will be capable of producing 10 million liters of spirit annually when it reaches full production, with all of the output intended for use in Chivas Regal, Ballantine's, and other Chivas Brothers blends.
While Dalmunach will be visible to hikers along the Speyside Way trail, it will not be open to the public for tours. The project took two years to complete with a number of local contractors, and created eight permanent jobs. It also marks the completion of a career for Douglas Cruickshank, who stepped down as Production Director for Chivas Brothers last year to manage the Dalmunach project. Cruickshank began his career at Imperial at the age of 15, and is preparing to retire later this year.
Links: Chivas Brothers