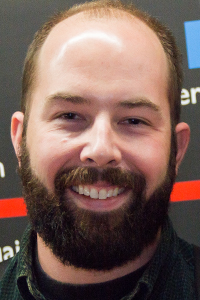 October 20, 2014 – With a gag order banning him from speaking publicly about the legal battle for control of Balcones Distilling lifted, Balcones founder Chip Tate is comparing the battle to an ugly divorce and predicts a buyout of one side by the other is inevitable. Tate remains under a restraining order issued August 22 by Texas 170th District Court Judge Jim Meyer banning him from the Balcones facilities or communicating with distillery employees, but part of the order banning him from speaking to the media or members of the public about the case has been lifted as the dispute heads for mediation.
Tate was suspended by the distillery's majority investors in August for what was termed in court filings as "actions detrimental to the distillery", including skipping board meetings and allegedly threatening to shoot Balcones chairman Greg Allen. While under the gag order, Tate could only respond in court filings. Today, he told WhiskyCast's Mark Gillespie in a wide-ranging telephone interview that not being able to defend himself against those allegations was "extremely frustrating." "I just had to wait it out and hope that people would realize how dubious it is to make such incredibly strong claims against someone on one hand and then restrain them from being able to comment on the other, " Tate said. He called last week's move by Balcones to relax the gag order and propose mediation a "pleasant surprise".
Listen to Mark Gillespie's entire interview with Chip Tate:

A contempt of court finding issued by Judge Meyer earlier this month stemmed from the distillery's claim that Tate did not return a Balcones-owned computer, hard drive, and mobile phone promptly as required by the restraining order. However, a hearing set for Wednesday at which Judge Meyer wanted to hear more testimony on the claim and possibly sentence Tate has been cancelled. Instead, a hearing will be held November 6 on whether the majority investors violated the company's bylaws by suspending Tate and a separate hearing will be held November 20 on whether to turn the temporary restraining order into a longer-lasting injunction.
The current restraining order is scheduled to expire around November 22, but Tate doesn't see any scenario in which he returns to the distillery under the current ownership structure. He holds a 27% stake in the company, while Michael Rockafellow and the 29 members of PE Investors II LLC hold the remaining 73%. However, the company bylaws require that Tate be present at any board meeting for decisions to be binding. Tate said he stopped attending the meetings when the other investors started ignoring the system of checks and balances set up in the bylaws. "They couldn't do certain things without my permission, and I couldn't do certain things without theirs," he said. "When those started to be exercised, I guess they didn't like what the operating agreement said any more."
Tate predicted that either he will be bought out of his ownership stake by the majority investors and be released from a non-compete agreement, or that he will find new investors and buy out the Oklahoma City-based group. He noted that even after Balcones Chairman Greg Allen brought sheriff's deputies to the distillery on August 5 to remove him from the premises, Allen offered a proposal to let Tate buy his group out.
In the weeks since the restraining order was issued, Tate has received widespread support on social media, and a grassroots campaign to raise funds for his legal bills raised more than $1,000 in the first five days. "I can't say how incredibly edifying and heartwarming it is," he said. "That's just been huge…that makes you understand that your love of the product, of the process, everything else, is appreciated by others, and that's a big part of why I do what I do. Thank you to everyone who's been out there doing that…I just can't say that enough."
In response to our request for a response to Tate's comments, Balcones provided a statement from director and investor Michael Rockafellow, who is not part of the Oklahoma City-based investment group, but was one of the early investors in Balcones. Rockafellow owns 15% of the company, while PE Investors II LLC owns 58%.
"All of us at Balcones Distilling understand and appreciate the interest in the recent litigation activity; however, we believe that it is not appropriate or fair at the current time to discuss the pending case beyond referring to details that are readily available in public filings and court rulings. After Judge Myers held Chip in contempt of court for violating the Court's TRO, we agreed to pursue mediation as a next step in the process. At the same time, we also agreed to narrow some of the TRO restrictions imposed on Chip in return for his agreement to abide by some other restrictions as part of an attempt to move forward."
The entire statement is available to read here at WhiskyCast.com, but did not address what the "other restrictions" are.
This story will be updated as necessary.
Editor's note: This story was updated to include a statement from Balcones, along with clarification on the ownership structure of the distillery based on information provided by Balcones Distilling.