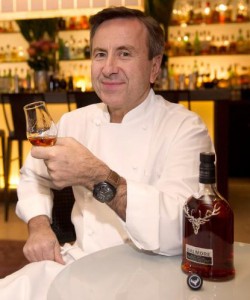 November 6, 2013 – The single malt collaboration between three-star Michelin chef Daniel Boulud and Whyte & Mackay's master whisky blender Richard Paterson is now available at whisky specialty retailers. The Dalmore Selected by Daniel Boulud had previously only been available in Chef Boulud's New York City restaurants, but 1,000 bottles have been made available for sale at a recommended retail price of $200 USD.
Paterson and Boulud worked together to select the casks for the unique expression, settling on whiskies matured in Moscatel, Madeira, and Port wine casks. The final blend was allowed to marry in ex-Sherry casks before bottling at 44% ABV. In a news release, Paterson described the collaboration as a learning experience.
"It's very easy for anyone to simply put their name on a label, but Chef Boulud went above and beyond that, giving input that truly affected the outcome of this whisky. His selection of Muscatel, Madeira and Port wine casks, for example, was a combination of woods that I have never used before when creating whiskies for The Dalmore. This creation is something totally new and different in the Scotch whisky category, an assemblage based not on my own traditional experience, but rather on the well-seasoned palate and preferences of a fine chef."
Chef Boulud launched the whisky earlier this year with a special menu at his New York restaurants pairing it with each dish, and is available by the glass at each of the six restaurants.