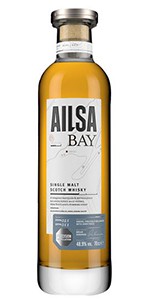 February 14, 2016 – Ailsa Bay Distillery is tucked away inside the William Grant & Sons-owned Girvan distillery complex in Ayrshire, Scotland, and now, nine years after opening its doors, the first single malt Scotch whisky from the distillery is on sale. The no-age-statement malt comes from one of the three styles of peated spirit produced at Ailsa Bay, according to Kevin Abrook of William Grant & Sons.
"We knew we couldn't out-Islay Islay," Abrook said in a telephone interview. "What we wanted to do was celebrate that at a modern distillery using the latest methods but still obviously adhering to the traditions that are in single malt whisky."
Listen to Mark Gillespie's interview with Kevin Abrook:

The distillery was designed to produce whisky for use in the company's blends, but also gave Master Blender Brian Kinsman a chance to experiment with a new style of maturation. According to Abrook, the "cask-starting" process uses small casks previously used at New York's Tuthilltown Spirits for Hudson Baby Bourbon to give the new make spirit an initial boost for several months before the whisky is transferred to a mix of traditional-size refill, first-fill, and Virgin Oak barrels for the rest of the maturation period.
Essentially, the process is the exact opposite of "finishing", in which distillers put mature whisky into a different style of cask to add unique flavor characteristics. "If you cook a roast in the oven, you put it on high for 200º (ºC, or around 392º F) and then after 20 minutes, you take it out and lower the temperature," Abrook said. "You give the maturation a real boost in the small ex-Hudson casks so you've got a great liquid-to-wood ratio, and that accelerates the maturation."
The Ailsa Bay single malt is bottled at 48.9% ABV, and is available at UK retailers and in several Nordic countries with a recommended retail price of £55 ($79 USD).
Links: William Grant & Sons