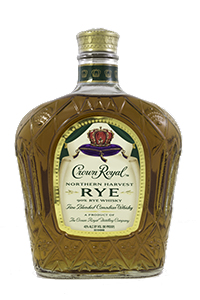 November 19, 2015 – Canadians are cheering the selection of Crown Royal's Northern Harvest Rye as the 2016 Whisky Bible's overall "World Whisky of the Year." The 90 percent rye whisky made its debut in the US market at the end of 2014, and was picked by Whisky Bible editor and publisher Jim Murray as his top-scoring whisky of the year with a rating of 97.5 points.
Northern Harvest Rye is just making its debut in Canada in several provinces, according to Diageo Canada's Stuart Brown. "It's actually gotten an incredible response, and we're just so thankful that it's got the status it has gotten," he said. Brown poured Northern Harvest Rye during his tasting session this evening at the New Brunswick Spirits Festival in Fredericton, and a number of attendees have already been checking the provincial liquor monopoly's online inventory to see when it will be available.
"We're world class…in Canada, we play hockey world class…whisky…world class," Ross Galbraith boasted after the tasting. "Canada has had a long tradition of making great whiskies, and it's finally time that we get our due," he said. Other attendees who had heard about the award and have also tasted the whisky echoed Galbraith's comments. "I thought it was a little different than everything else that they've ever put out, and I think it's definitely something that everybody should go out and try at least once," Mark Smith said.
This is the first time that the Whisky Bible's top honor has gone to a Canadian whisky, and follows last year's selection of Suntory's Yamazaki Sherry Cask 2013 Japanese whisky. Four other whiskies also received "World Whisky of the Year" honors, but fell slightly short of the Crown Royal's high score. That list includes Heaven Hill's new Pikesville Straight Rye, Midleton Dair Ghaelach Irish Single Pot Still Whiskey, Buffalo Trace's 2014 William Larue Weller Bourbon, and Suntory's 2014 Yamazaki Mizunara.
"It's a very, very important step for Canadian whisky," said Davin de Kergommeaux, founder of the Canadian Whisky Awards and author of "Canadian Whisky: A Portable Expert". "There's no question about it…Jim Murray sells whisky. You look at Ballantine's (17, which won the title in the 2011 edition), huge spike…I just got a note from Toronto, and apparently there are lineups at the LCBO in Toronto in Ontario, Canada today to buy Northern Harvest Rye…all around the world, people are going to be hearing about Canadian whisky." It also sparked interest in de Kergommeaux's book, with a one-day jump in sales reported on Amazon.com.
This is the second consecutive year that a Scotch whisky has not received one of the Whisky Bible's top honors. The closest was the Glenfarclas 1957 Family Casks #2110, which was named "Single Cask Whisky of the Year."
Listen to this week's WhiskyCast for more coverage from the New Brunswick Spirits Festival.
Links: Crown Royal | Whisky Bible