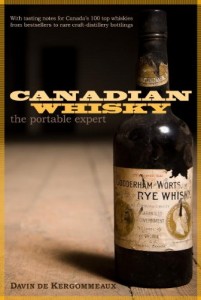 Davin de Kergommeaux's 2012 book Canadian Whisky took home a Bronze Medal in the 2013 Gourmand World Book Awards.
The winners were announced at the Paris Cookbook Fair this past weekend. Canadian Whisky  was one of five finalists in the category for Best Spirits Book after taking top honors in regional judging. Steffo's Spiritbibel  by Swedish authors Steffo Tornquist and Helen Pe won the Gold Medal, while Sake  by Germany's Rainer Schillings and Ansgar Pudenz won the Silver Medal.
"Canadian Whisky" has also been shortlisted as a finalist for Best Wine, Beer, or Spirits Book of 2012 by the International Association of Culinary Professionals.
Davin is a member of the Malt Maniacs, as well as the producer of the Canadian Whisky web site, and is acknowledged as one of the leading experts on Canadian whiskies.